I took the portrait of Tehya our Siberian Husky in the middle of December last year, We had been playing in the snow at Forty Hall, Enfield and I managed to grab this lovely shot of her.
I have tweaked the shot in Photoshop Elements 7 to boost the colour and contrast slightly and then softened the edges a little and added a black border to contain the image.
I hope you like the photo and thank you so much for viewing my work and for your constant support, please call back again soon oh and feel free to buy something from me if you like what you see.
NIKON D60 DSLR
F-stop f/5.6
Exposure time 1/125
ISO speed 360
100 mm on a 70 – 300 mm Tamron lens.
Aperture Priority
Shot in RAW in camera and converted to Jpeg in Photoshop Elements 7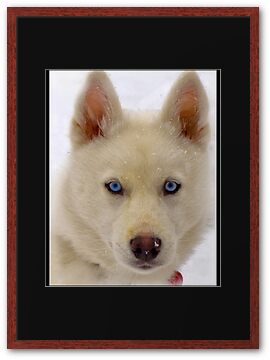 All the materials contained may not be reproduced, copied, edited, published, transmitted or uploaded in any way without my permission. My images do not belong to the public domain sector. Please ask for my permission before using this image for any purpose and in anyway because without it will lead to legal action.
©Anthony Hedger Photography 2011