The granite causeway leading to St. Michaels Mount Castle at Marazion near Penzance in Cornwall. I converted the shot into B&W in Photoshop Elements 7 from a RAW file – Originally it was showing the low early afternoon sunlight which was picking out the hardness of the granite rock and shadows. I wanted to take it a stage further; I got rid of the sun and added the full moon. I hope you like it and thank you so much for viewing my work and for your constant support, please call back again soon.
St. Michaels Mount Castle and the granite causeway were shot at;
NIKON D60 DSLR
F-stop f/22
Exposure time 1/160 sec
ISO speed 100
Aperture Priority
Exposure bias -1.3 step
Focal length 18 mm on an 18 – 55 mm Nikon lens.
And the moon which is my own photo, I shot it at;
NIKON D60 DSLR
F-stop f/11
Exposure time 1/800 sec
ISO speed 1600
Focal length 300 mm on a 70 – 300 mm Tamron lens.
Manual Priority
HANDHELD
Shot in RAW and converted to Jpeg in Photoshop Elements 7 and combined the two shots to make the one.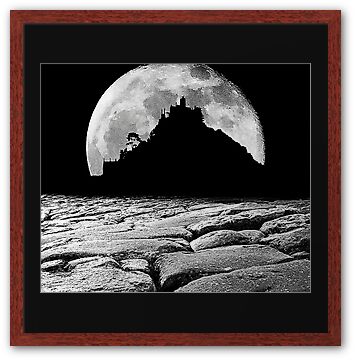 All the materials contained may not be reproduced, copied, edited, published, transmitted or uploaded in any way without my permission. My images do not belong to the public domain sector. Please ask for my permission before using this image for any purpose and in anyway because without it will lead to legal action.
©Anthony Hedger Photography 2010