Snake Lady created for the Year of the Snake on 8 February on my iPad.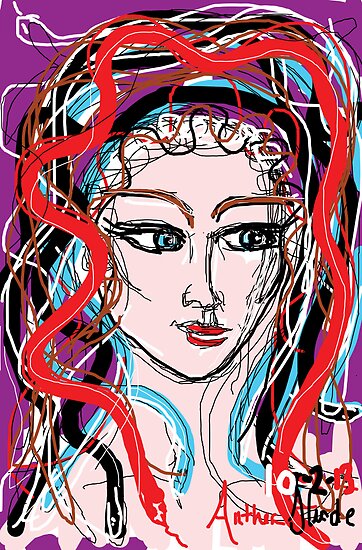 Year of the Snake is my Chinese Year so am expecting great thing from 2013 LOL. Some information for other people born in the year of the Snake.
The Year of the Snake starts this Sunday and according to the Chinese zodiac, just as a snake sheds its skin, snake years bring rebirth and renewal.
Closely related to the Dragon, the most prestigious of the 12 Chinse animals, snake years have the potential to bring great prosperity.
Welcome to Year of the Water Snake! Snake is the Yin to last year's Dragon Yang. That said, Snake does not settle for mediocrity, either. We're likely to see significant developments in the area of science and technology this year. Research and development are apt to flourish. This is a Water year as well, the element most closely associated with education and research, making 2013 a very special year for scientists and scholars. Snake is a great sign, a positive one, with energy that can help us face all of the challenges ahead of us. Let's take advantage of this vibrant influence to improve our lives — and our world!
The 2013 Year of Snake (article copied from HanBan.com
The Introduction of 2013 Year of Snake
2013 is the year of the black Snake begins on February 10th shortly after the New moon in Aquarius, the humanitarian of the zodiac. This 2013 year of Snake is meant for steady progress and attention to detail. Focus and discipline will be necessary for you to achieve what you set out to create. The Snake is the sixth sign of the Chinese Zodiac, which consists of 12 Animal Signs. It is the enigmatic, intuitive, introspective, refined and collected of the Animals Signs. Ancient Chinese wisdom says a Snake in the house is a good omen because it means that your family will not starve.
The Common Character of People Born in the Year of Snake
People born in the Year of the Snake are reputed to be thoughtful and wise and to approach problems rationally and logically, seldom instinctively. Such people are complex beings, they are clever and men of few words from their birth. Their business is always going well, but they are stingy very often. They are sometimes egoistic and conceited. However they can be very active in their friends' life. They are often too active, not believing other people and relying only on themselves. Snakes are also very insightful and naturally intuitive. If anyone has a sixth sense, it's those born in the Snake year. This is partly what makes them so mysterious.Snakes come in all varieties of colors and patterns. And maybe that's why people born in the Snake year love to appreciate beauty. People with the Chinese zodiac snake sign are very stylish, fashionable and have exceptional taste.
People born in the Year of the Snake also have a sure touch in money matters but are also inclined to be greedy and somewhat egoistical. Determined and ambitious characters of Snakes take their failures hard. They are usually very attractive on the outside and inwardly, that, taking into consideration their frivolity, can lead to some family problems.
The Cosmic Element and Color of 2013 year of Snake
The 2013 year of Snake is Water Snake, Water Snakes are lucky with finances, they always seem to have money flowing their way. They are adventurous spirits and love to take risks. They are also very intelligent and often a wellspring of creative ideas. Water Snakes love to socialize and meet new friends.They are proud of their achievements, and also very thoughtful and considerate of others.
The colour of the 2013 year of Snake is Black. Black color is the Space, Arctic night, darkness on the Abyss, this is a color of deep waters. The Black Snake will bring people unexpected changes, instability, and changeability. That is why it is important in the year of Snake to plan everything beforehand, and evaluate adequately before taking any actions. You need to be more careful and cautious than ever.
The Overall Trend in 2013 Year of Snake
The 2013 Snake of year has ability to read complicated situation quickly in a controlled manner which is good for business. Signing documents of any kind requires very thorough attention. 2013 horoscope predict it is a good year to begin important detail work. Research and investigation are supported. The Snake has sneaky energy that can be to your advantage. Look for the holes in the loop. A new-found ambition to greatness will inspire you to be all you can be, and provide you with the follow through to actually achieve your goals, And, 2013 year of the Snake also supports added responsibility,
But 2013 Snake need to watch for fanatical commitments since Snakes inclination to spend money quickly than earn them may produce tensions in personal relationships. Create a safe space to work from this 2013 year. The Snake likes protection, needs to feel safe and secure to utilize its special analytical skills. This is the year to make headway in slow and methodical ways. Things will definitely be accomplished as you focus forward.