On first glance, this looks like broad daylight… but it's the full moon light shining over my shoulder onto this famous barn. Temperature: minus 5 degrees C. Magic night to be out at the Mormon Row Barn before the road closes for winter. One of the signature spots in Grand Teton National Park, Jackson Hole, Wyoming, USA. Canon 7D, ISO 640, f5.6, 20 seconds, 2 second shutter delay, 10mm focal length, RAW, flash light dimly illuminating the inside of the barn. (Scroll down to the bottom of this window for FEATURES.)
Compare the image above to a similar RAW shot processed to make it look more like night: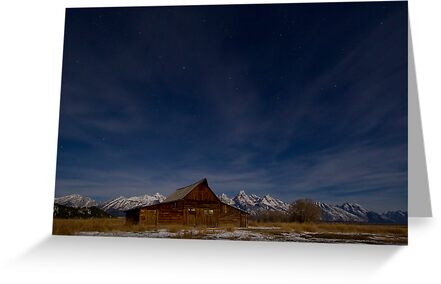 Featured in:
- RB Featured Photograghy
- Americas – Rural, Urban, Wild and Free, November 2011
- Canon DSLR, November 2011
- Rural Around the Globe, November 2011
- Wide Angle, November 2011
- America The Beautiful, November 2011
- A Moment in Time, November 2011
- Your Country's Best, November 2011
- A Love of Canon, November 2011
Thank you all!
Thank you so much!