This is CHESTER England,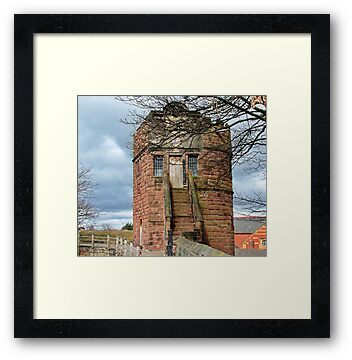 The King Charles Tower is said to have been known at an early date as "Newton Tower" (today it overlooks Newtown, Chester), but by the 17th century it was called the Phoenix Tower.
In the Middle Ages many watch towers were used as meeting places for the city guilds. Above the doorway is a plaque carved in 1613, which marks the use of this tower by the Painters, Glaziers, Embroiderers and Stationers Company, whose emblem was a phoenix. The tower was also the meeting-place of the the Company of Barber Surgeons, Tallow Chandlers and Wanchandlers.
On 24 September 1645 King Charles I, during the Civil War, watched from this tower while his army was being defeated by the Parliamentarians on Rowton Moor, about two miles to the south-east. What he saw was not the battle on the Moor itself but the scattered remnants of his army being pursued through Boughton and Hoole. The king later moved to the cathedral tower, where he was narrowly missed by a bullet fired from St John's Church.