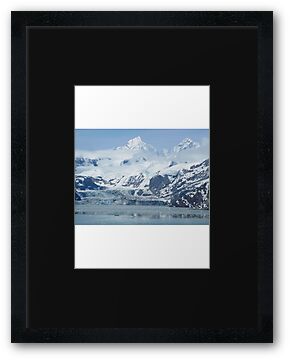 Glacier Bay National Park is a national park in Alaska. The area around Glacier Bay in southeastern Alaska was first proclaimed a U.S. National Monument on February 25, 1925. It was changed to Glacier Bay National Park and Preserve on Dec. 2, 1980 by the Alaska National Interest Lands Conservation Act. Glacier Bay National Park and Preserve is a United States National Park in the southeastern part of Alaska west of Juneau. The park area was included in an International Biosphere Reserve in 1986 and is part of a UNESCO World Heritage Site. The park covers 5,130 mi² (13,287 km²). Most of the park is a designated wilderness area which covers 4,164 mi² (10,784 km²) of the park.
Visualization of Glacier Bay, based on Landsat imagery and USGS elevation data
No roads lead to the park and it is most easily reached by air travel. During some summers there are ferries to the small community of Gustavus or directly to the marina at Bartlett Cove. Despite the lack of roads, there are over 400,000 visitors per year, most on cruise ships.
Glaciers descending from high snow capped mountains into the bay create spectacular displays of ice and iceberg formation. In the last century, the most dramatic was probably the Muir Glacier. The calving face was nearly 2 mi (3.2 km) wide and about 265 ft (81 m) high. In the 1990s, the Muir Glacier receded to the point that it was no longer a tidewater glacier. Most visitors today see the Margerie and Lamplugh Glaciers.
Joseph Whidbey, master of the Discovery during George Vancouver's 1791-95 expedition, found Icy Strait, at the south end of Glacier Bay, choked with ice in 1794. Glacier Bay itself was almost entirely iced over. In 1879 naturalist John Muir found that the ice had retreated almost all the way up the bay, a distance of around forty-eight miles. By 1916 the Grand Pacific Glacier was at the head of Tarr Inlet about 65 mi (105 km) from Glacier Bay's mouth. This is the fastest documented glacier retreat ever.[citation needed] Scientists are hoping to learn how glacial activity relates to climate changes from the retreat.
Glacier Bay National Park and Preserve includes nine tidewater glaciers. Four of these glaciers actively calve icebergs into the bay.
Wildlife in the area includes both grizzly and black bears, moose, sitka blacktail deer, mountain goats, dall sheep, wolves, lynx, sea otters, harbor seals, steller's sea lions, Pacific white-sided dolphins, orcas, humpback whales, bald eagles, gulls, waterfowl, and salmon.