http://www.snugburys.co.uk/sculpture.htm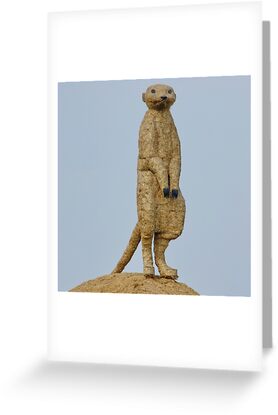 Meerkat sculpture at Snugbury's wows A51 drivers
July 26, 2010 by nantwichnews
This stunning straw sculpture at Snugbury's near Nantwich is wowing passers-by…and drawing national attention!
The 36-ft straw meerkat structure is the latest in a line of memorable sculptures built by the side of the A51, Hurleston, by Snugbury's Ice Cream farm director Chris Sadler and wife Cheryl.
With the help of Mike Harper, from Harbook Engineering, they have turned their ideas into reality and helped to raise money for The Railway Children charity.
National newspapers like The Sun and The Daily Mail have featured the story in the last few days.
It is built on a 6-ft base and has lights in its eyes, and stands 30 times larger than a real-life meerkat.
Past sculptures have included Big Ben in 2009, to celebrate its 150th anniversary, as well as London Eye, Lovell Telescope and Millennium Dome.
Chris said they started planning their latest creation in January, which starts with a steel skeleton made by Mike.