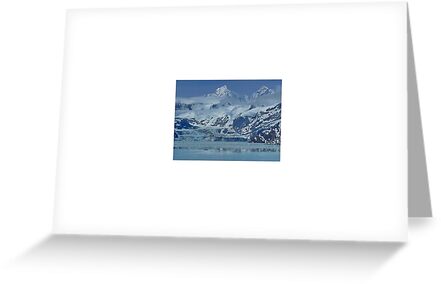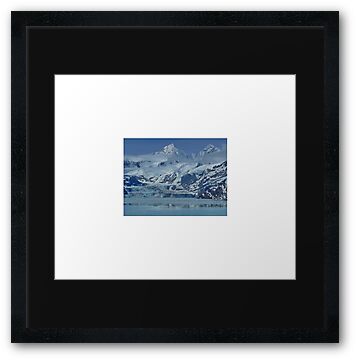 Glacier Bay is a bay in south-eastern Alaska, United States. It runs north northwest to south south-east for about 105 km (65 miles) between two pinchets of Alaska. It ranges from 5-30 km (3-20 miles) wide. Glacier Bay and the surrounding land is the site of the Glacier Bay National Park and Preserve. The area is a popular cruise ship destination.
The explorer Captain George Vancouver found Icy Strait, at the south end of Glacier Bay, choked with ice in 1794. Glacier Bay itself was almost entirely iced over. In 1879 naturalist John Muir found that the ice had retreated almost all the way up the bay. By 1916 Grand Pacific Glacier was at the head of Tarr Inlet, about 100 km (65 miles) from Glacier Bay's mouth. This is the fastest documented glacial retreat ever. Scientists are hoping to learn how glacial activity relates to climate changes from the retreat.
A cruise ship dwarfed by the magnificence of Glacier BayPlants progressively moved in as the glacier retreated, so a 200-year-old spruce and hemlock forest presently exists at the entrance, grading up to more primitive plants such as mosses and lichens at the head of the bay. Because of current local climate change some glaciers are now retreating at a rate of up to a quarter of a mile per year. However, the glaciers are slightly larger now, than they were in the 1960s.
Glacier Bay contains sixteen glaciers, twelve of which reach shorelines and calved to produce icebergs.