Butchart Gardens, Vancouver Island, BC,CANADA
A road to the most beautiful gardens I know of,
Taken with FUJI S20 pro,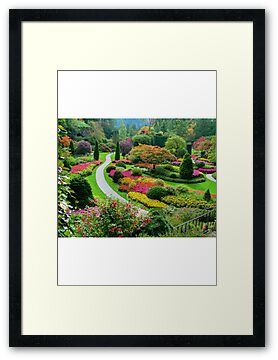 Location of Butchart Gardens in British Columbia
The Ross FountainRobert Pim Butchart (1856–1943) began manufacturing Portland cement in 1888 near his birthplace of Owen Sound, Ontario, Canada. He and his wife Jennie Butchart (1866–1950) came to the west coast of Canada because of rich limestone deposits necessary for cement production.
In 1904, they established their home near his quarry on Tod Inlet at the base of the Saanich Peninsula on Vancouver Island.
In 1906, Jennie created the Japanese garden there with the help of designer Isaburo Kishida. In 1909, when the quarry was exhausted, Jennie set about turning it into the Sunken Garden, which was completed in 1921. They named their home "Benvenuto" ("welcome" in Italian), and began to receive visitors to their gardens. In 1926, they replaced their tennis courts with an Italian garden and in 1929 they replaced their kitchen vegetable garden with a large rose garden to the design of Butler Sturtevant of Seattle.
In 1939, the Butcharts gave the Gardens to their grandson Ian Ross (1918–1997) on his 21st birthday. Ross was involved in the operation and promotion of the gardens until his death 58 years later.
In 1953, miles of underground wiring was laid to provide night illumination, to mark the 50th anniversary of The Gardens. In 1964, the ever-changing Ross Fountain was installed in the lower reservoir to celebrate the 60th anniversary. In 1994, the Canadian Heraldic Authority granted a coat of arms to the Butchart Gardens. In 2004, two 30-foot totem poles were installed to mark the 100th anniversary, and The Gardens was designated as a national historic site.