Taken in Chester England.
This is know locally as the Dolphin, it flies low over our house 4 times a day, two to the airbus factory and two back, the factory is only 5 miles away, I was nearby the river one day and it was so low I felt I could almost reach up to it, its HUGE !! Its is much larger than a Jumbo Jet as it carries the wings for the A380 new plane,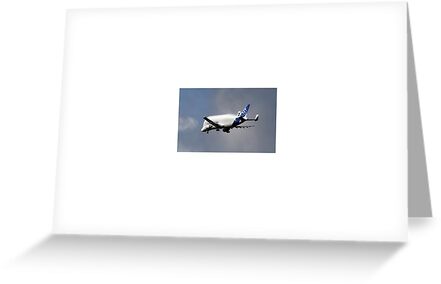 ……………………………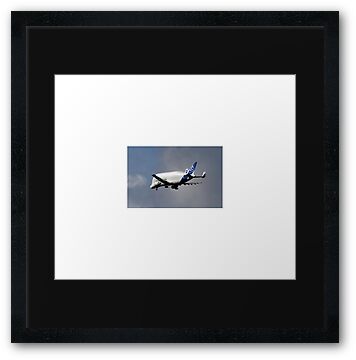 The Airbus Transport International subsidiary of Airbus operates a fleet of five A300-600ST known as Belugas – one of the world's largest cargo carriers. These aircraft perform regular airlift duties for Airbus, carrying fuselage sections and wings between the different European production sites, and they also are made available for chartered commercial flights.
A wide range of commercial charter missions have been performed by Airbus Transport International, from airlifting a 17.6-metre-long x 6.5-metre-diameter chemical tank weighing 39 metric tonnes to transporting a large French masterpiece painting.
Space hardware manufacturers use the Beluga for reliable charter flights with payloads that have included space station modules, launch vehicle hardware and the most delicate satellite payloads. A pallet-mounted heating module provides a comfortable environment for spacecraft and other cargo that requires temperature-controlled conditions.
In addition, the Beluga offers unique transport capabilities for the military airlift market, providing the largest main deck cargo compartment of any aircraft available today.
The Beluga is a highly modified version of the A300-600 and features one of the widest fuselage cross-sections of any aircraft, civil or military. Its main deck cargo volume is greater than the Lockheed C-5A Galaxy, Antonov AN-124 and Boeing C-17. Tailored for the transport of heavy and voluminous cargo loads, the Super Transporter is able to carry a payload of 47 metric tonnes (103,616 lb.) over a range of 900 nautical miles (1,667 km).