<a href='http://www.myfreecopyright.com/registered_mcn/C...' title='MyFreeCopyright.com Registered & Protected' ><img src='http://storage.myfreecopyright.com/mfc_protecte...' alt='MyFreeCopyright.com Registered & Protected' title='MyFreeCopyright.com Registered & Protected' width='145px' height='38px' border='0'/></a>!
MCN :: C6NFQ-NSNLU-UP1BP
BEST VIEWED LARGER
On 19/07/10 this image has received 2306 views, 128 favourites, and 283 comments.
-—————————————————————————————-

RedBubble Home Page Feature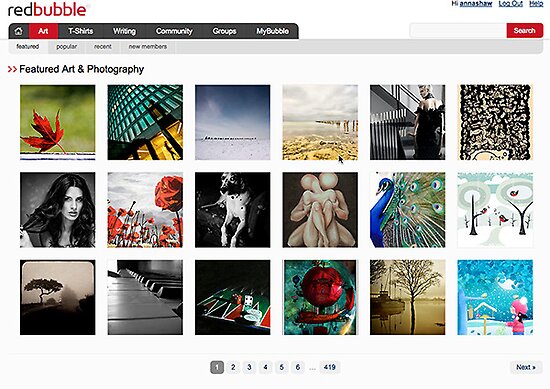 Red Bubble Front Page – Popular Art

The Chariot
I was initially inspired by the way Carl Jung used the Tarot to get his subjects to explore their own subconscious selves, through the universal archetypes represented by each card.
At the same time, I had become aware that repeatedly we are bombarded with photo montages of women that are perpetuate the romanticised fantasy of dreamy, pure, young girls, and I began to wonder what this does for our inner psyches.
I know that there is much more to us that that, so this deck is my attempt to explore different aspects of the female psyche using the archetypes inherent in the Tarot as tools. It is to be a celebration of the complexity of women everywhere.
See below for the explanation of this card.
-——————————————————————————————-
The obvious song choice for this one would have been 'Chariots of Fire', but the song whizzing around in my head was in fact 'Windmills of My Mind' by Sting. You will see clearly how this influenced my work.
Round,
Like a circle in a spiral
Like a wheel within a wheel
Never ending or beginning
On an ever-spinning reel
Like a snowball down a mountain
Or a carnival balloon
Like a carousel that's turning
Running rings around the moon
Like a clock whose hands are sweeping
Past the minutes on it's face
And the world is like an apple
Whirling silently in space
Like the circles that you find
In the windmills of your mind
Like a tunnel that you follow
To a tunnel of it's own
Down a hollow to a cavern
Where the sun has never shone
Like a door that keeps revolving
In a half-forgotten dream
Like the ripples from a pebble
Someone tosses in a stream
Like a clock whose hands are sweeping
Past the minutes on it's face
And the world is like an apple
Whirling silently in space
Like the circles that you find
In the windmills of your mind
The Chariot
On your journey of self-awareness, you are getting closer to completing what you set out to do. But enemies are now standing in your way. The enemies can be other people who want to do you harm, but also can be bad things that may be happening to you. They could be confusion or demons in your own mind.
You feel you have no more forward momentum and you feel that you are fighting just to stay still.
It is now that you comes across a charioteer with her wonderful chariot. "You seem a victorious warrior," you remark.
"Tell me, what is the best way to defeat an enemy?" The Charioteer nods out at the ocean. "Have you ever been swimming in the water and been trapped in that tide which pulls you out to sea? If you try to swim forward, head-on, you go nowhere. You swim forward, the tide pulls you back and, if you tire yourself out, you drown. The only way to win without sapping all your energy is to swim parallel to shore, and come in slowly, diagonally. So, too, when fighting in a chariot. You win by coming up alongside that which you wish to defeat."
The chariot is one of the most complex cards to define. On its most basic level, it implies war, a struggle, and an eventual, hard-won victory; either over enemies, obstacles, nature, the beasts inside you, or to just get what you want. But there is a great deal more to it.
The Chariot is a fascinating card, but also frustrating, and I have tried to capture the essence of it here. Going to war – with yourself, or your enemies take a huge amount of energy, co-ordination of resources and determination— if you are to win the battle.
In the balloon chariot here – you will see all the elements needed to keep the chariot on target There are soldiers – all of whom need to be directed and fed. Places to sit and plan, pray and meditate, but which need upkeep and resources. Machines to keep serviced and working – others around you to consider.
The charioteer is looking outwards at you, urging you not to take on battles that are impossible to win. But if they are necessary. She is telling you that to go to war, requires enormous energy, self- control and control over your environment. All these qualities are necessary to bring together opposing emotions, wants, needs, people, or circumstances; Confidence is also needed and, most especially, motivation. With these qualities of energy, control, and motivation you can win your battles.
The background was created from my own textures. The globe was simply created using the sphere filter. The chariot was created from a fabulous brush – and then all the different elements painted in and texturised.
The apple symbolises the world ( as in the song above) but also is a symbol of tempation. If you are tempted to fight an unwinnable war, and you do not have the resources to fight, then remember the apple – and resist. Don't go tilting at windmills.
I am grateful to the following artists for making their fabulous stock available…
---
Other cards in this series are….