<a href='http://www.myfreecopyright.com/registered_mcn/C...' title='MyFreeCopyright.com Registered & Protected' ><img src='http://storage.myfreecopyright.com/mfc_protecte...' alt='MyFreeCopyright.com Registered & Protected' title='MyFreeCopyright.com Registered & Protected' width='145px' height='38px' border='0'/></a>!
MCN :: C326W-D83DF-AN2KD
RedBubble Popular Art Page Feature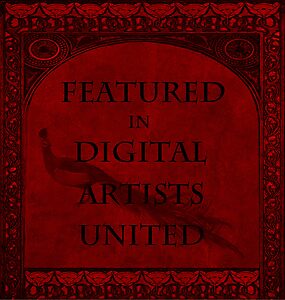 The Emperor
Who says that women cannot rule the world?
I was initially inspired by the way Carl Jung used the Tarot to get his subjects to explore their own subconscious selves, through the universal archetypes represented by each card.
At the same time, I had become aware that repeatedly we are bombarded with photo montages of women that are perpetuate the romanticised fantasy of dreamy, pure, young girls, and I began to wonder what this does for our inner psyches.
I know that there is much more to us that that, so this deck is my attempt to explore different aspects of the female psyche using the archetypes inherent in the Tarot as tools. It is to be an exploration and celebration of the complexity of women everywhere.
The Emperor
On your journey to self awareness, you next come across The Emperor. She is a complex character. She rules her empire with strength and power. She expects to be obeyed. She is filled with enthusiasm, energy and aggression. She is direct, strong and forceful.
Unfortunately, she can also be a tyrant and be impatient, demanding, and controlling. In the best of circumstances, she signifies the leader that everyone wants to follow, sitting on a throne that indicates the solid foundation of an Empire she created, loves and rules with intelligence and enthusiasm. In the worst, it is an empire of rigid rules and punishments if you do not obey.
But that throne can also be a trap, a responsibility that has the Emperor feeling restless, bored and discontent.
The Emperor will show you how to gain control over your environment, – including your body, your temper, your instincts and your life. She will tell you that this is not the time to be guided by the wants and needs of others, and she will give you permission to be aggressive, strong and bold,and in command. She will also give you permission to give up power if that self same power is weighing you down.
………………………………………………………………….
---
I created this in Photoshop CS4.
Several of my own textures were merged together for the background and then overlaid with the fabulous
Background that you can see.
For the Emperor, I had to stitch together several different body parts to get her riding the horse. The models came from the fabulous mizzd- stock
---
.
Music: John Lennon, singing 'Revolution'

-——————————————————————————————-
The others in the series are….
The others in this series are…
The Fool