<a href='http://www.myfreecopyright.com/registered_mcn/C...' title='MyFreeCopyright.com Registered & Protected' ><img src='http://storage.myfreecopyright.com/mfc_protecte...' alt='MyFreeCopyright.com Registered & Protected' title='MyFreeCopyright.com Registered & Protected' width='145px' height='38px' border='0'/></a>!
MCN :: C7VFV-QPB8R-654HF
-——————————————————————————————
"And when the day arrives I'll become the sky and I'll become the sea and the sea will come to kiss me for I am going home. Nothing can stop me now."'
Trent Reznor
On19/08/2010 this image has received 1609 views, 307 comments, 4 sales and has been favourited by 110 people.
This image is a tribute to an old friend, Hilton Matthews, who so sadly died earlier this year. It is a gift for his wife, and my closest friend, Sarah.
Hilton was a well known sailor on the Isle of Wight, and was one of the true characters of the Fishbourne Sailing Club. He weathered many storms during his life. He would have loved this one!
The boat in the image is one which Hilton helped rescue when it ran aground on the rocks.
This was the image i had to start with.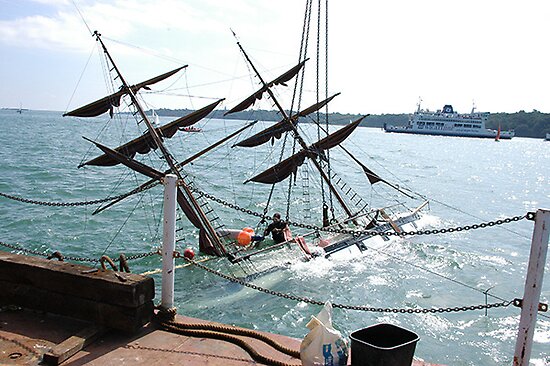 The sky and the seas have been painted, using a variety of brushes in Photoshop CS4.
14/01/10 – 1075 Viewings, 253 comments and 96 favourites.
Featured in:
The Woman Photographer
Digital Art Manipulation
Top Ten in the Water Challenge
Digital Brushstrokes
Dream and Fantasy Art
The Scavenger Hunt
Artists of Redbubble
Digital Art Compilations
Imaginative Realism