Introduction to the work of Anna C
Female artist, living in Belgium
A search for esthetically expressive associations concerning body, portrait, sexuality and symbolism from a female perspective.
With special attention for the game of contradictions between might and inability, latency and freedom and the poetic power out of 'rough, cold' images. With emphasis on the pictorial female view.
If someone is interested in buying my work, please contact me for more details.
" Anna Cuyper's, from the Flemish part of Belgium stages, performs, and photographs her art.
The Flemish artist is beautiful, and brilliant.
Unfortunately she lives in great pain, struck with debilitating Rheumatoid Arthritis seven years ago.
Successive surgeries and a neck prosthesis are not working. Frequent hospital and pain clinic
visits have replaced her job as a professional social worker and psychotherapist.
Anna releases anger and depression by creating her unique brand of art. She engages us in a
game of contradictions, between strength and weakness. With the poetic power of some
Shakespearean tragedy, Cuypers' art alludes to her keen interest in opera, drama, and the human psyche.
She is her own best model. Once you dare to really look, you cannot take your eyes off of Anna Cuypers. "
—F. A. Moore
All The Materials Contained May Not Be Reproduced, Copied, Edited, Published, Transmitted Or Uploaded In Any Way Without My Permission. My Images Do Not Belong To The Public Domain.
© annacuypers: using this image for any purpose and in any way, without prior permission, may lead to legal action.
NO STOCK material used.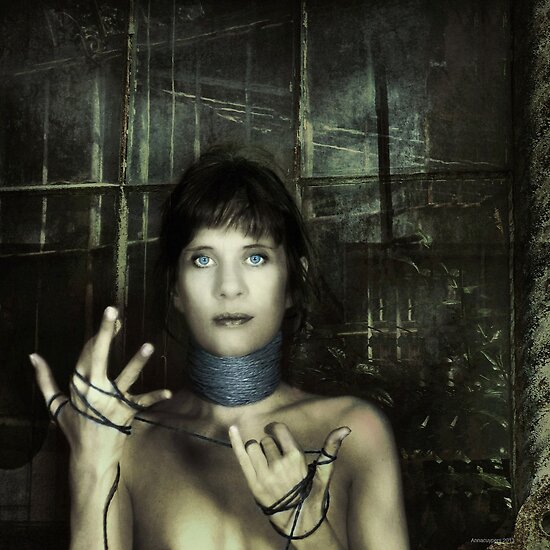 like a thread around my neck…
by annacuypers

April 2013 Juried Invitational Exhibition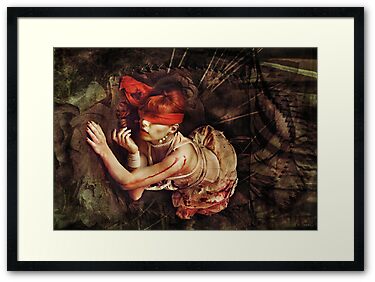 September 2012 Juried Invitational Exhibition

*"Judge, July 2012 Juried
Invitational Exhibition":http://www.redbubble.com/groups/solo-exhibition...*
Join me at the Juried Invitational Exhibition…
http://revistacapiusa.com/black-edition-2/
Published may 2012 :
Pink Panther Magazine – Feminist Art & Writing
A feminist group, celebrating feminist art and writing,
http://www.magcloud.com/browse/issue/370725
Join me at Anna Cuypers' Solo Exhibition, 'And I Staged My Death and My Salvation'
Gallery-hop three Solo shows, October 18 – 24, 2010…
Featured artist on the love of eerie and enchanting artwork