Original Ink Drawing by Anita Inverarity
"Quirky Quines Series 3"
My Scottish inspired girls are exploring some of Scotlands famous landmarks and areas in this series.
Footdee is a quirky preserved little fishing "village" nested in the mouth of Aberdeen harbour and is known for its quaint little houses and colourful sheds & outbuildings. The locals refer to it as "Fittie". This work was loosly inspired by a "folk art" style sculpture in Footdee which shows a carved wooden "whale" infront of a moored fishing boat. Flora is heading out to sea on a wave of imagination.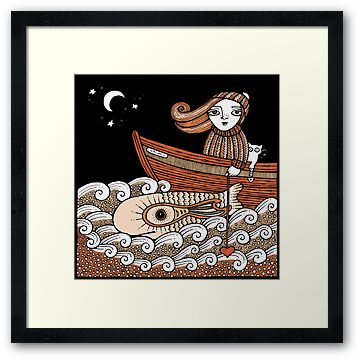 Original Sold Nov 2012. Gallery at the Corner