Original Pen & Ink Drawing by Anita Inverarity
Kiki has a special place in my heart. She was one of the first drawings I did especially for a redbubble challenge when I first joined the community. Since then she's brought much attention and quite a few T-shirt sales.
She started as a simple line drawing, I decided to bring her out and give her a wee revamp, by adding a background.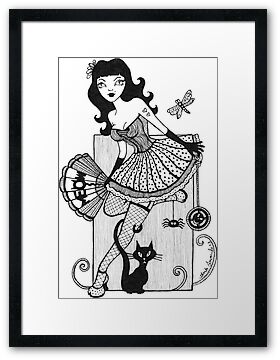 Original Sold June 2012
Still Available on prints & cards also……
Kiki Monique- Original Line Drawing

Kiki Monique Tee

For more Kiki on a fun range of Products, check out my
ZAZZLE STORE
Kiki Monique Burlesque Coffee Mug (Zazzle)