Original Pen & Ink Drawing by Anita Inverarity
"Tarot of the Roses"
This is my second Tarot Card design available as an Artwork. I hope to complete the major arcana and then continue onto the suits. A huge undertaking but a project I have always wanted to do.
Each artwork will also be available in a coloured card version.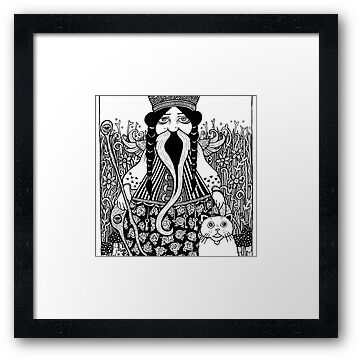 Original Art Work in White/Black Mount. Please enquire if interested
My original notes on the Emperor Card
The Emperor represents Fatherhood and fertility, shown by the roses on his robes. He is somewhat stern in his wisdom and knowledge, although this inner knowing can bring forth great love and humour when least expected. The crescent moon of his belt buckles represents the waxing and waning of the moon and its links to the cycle of life.The cat represents his son in this piece, in need of love, care and attention, but ultimately his own spirit and being sent with the wisdom of the Emperor out into the world for the first time. The Emperor has physical strength and spirtitual security, you can tell by his confident and unfliching gaze that he is mature and knowing. Generous and kind to those he holds close, given away by the hearts on his sleeve, he can tap into the devine energies when needed, but prefers to reside over his earthly domain.
Others in this Series so far…..
The Empress