Anitas Art- Newsletter October 2012

Thank you to everyone who visited our NEOS event at Aberdeen Waldorf School. It was lovely to meet people face to face and talk about our creations. Do remember in the lead up to Christmas to check out the NEOS all year round catalogues to find your favourite artists and makers for the best in home-grown talent, we appreciate your support so much during NEOS and throughout the coming year.
The NEOS exhibition at the Aberdeen Artists Society Gallery on Justice Street is still ongoing. See beautiful artworks in miniature Trading Card size until the 24th of October (NB: The Cards are not for sale but the artists have had fun trading them throughout the show- My card has been traded and I cant wait to see who's mini masterpiece I'm getting in return). Open Wed and Sats 12pm-4pm.

Lines, Marks & Layers
There is still time to catch our group show "Lines Marks & Layers" at Junction Arts Gallery on Holburn Street.
"The Crone- She Swallowed aFly" from a selection of my works at the exhibition which is on until the end of October.
Lines, Marks & Layers at Junction Arts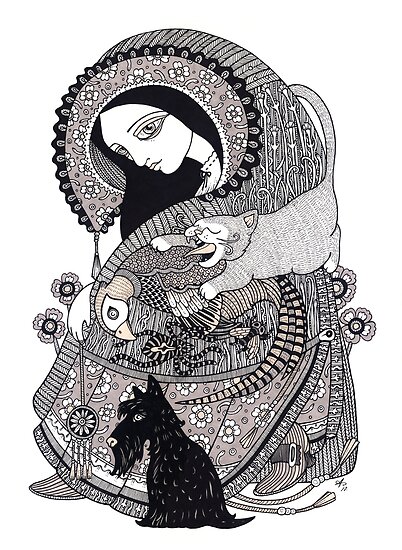 Spectrum
It was a pleasure to take part in Spectrum at the BP Atrium Gallery by Smart Consultants. BP staff and visitors can see the private show until the end of October.

I was very honoured to be selected for the Winsor & Newton Ink Exhibition at the Griffin Gallery in London. My entry was the Lion & the Unicorn which can be seen as part of the "Lines, Marks & Layers" show at Junction Arts. A simplified version was chosen to be represented at the Griffin Gallery show to mark the anniversary of Winsor & Newton.
"Lion & the Unicorn" Original with full background available at Junction Arts.


"Pictures from the Winsor & Newton Ink Exhibition at Griffin Gallery, London. Including my simplified version of Lion & the Unicorn"


I am very excited to have started on my "Whisper of the Sith" project exploring Scottish Myth & Legend. Earlier this year I won the Aberdeen and Aberdeenshire Visual Arts Award to create 10 major pieces of work which will go on show at the end of 2013. I am in the process of creating a Blog to document progress of the project, this will include my sketches and workings and the stories behind each piece- I hope to have that up and running for my next Newsletter.
The first piece "Finfolk Message" (working title) is based on the Orcadian legends of the Finfolk. It is an A1 sized pieced on Illustration Board. Here is asneak peak of the first portion of inking and in the meantime I will be sharing "Work in Progress" shots on my Facebook Page Here


I have also been working on some new "Quirky Quines" for my solo show in Edinburgh next month. More news soon and here is a first look at one of the new pieces. Many have an Edinburgh/East Lothian theme.
Flos Firth Fishing Boat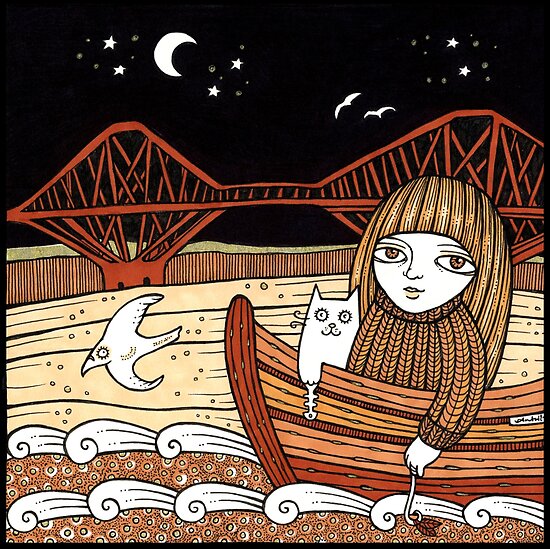 Gallery News- Milton Spotlight
This month I dropped off some new works at The Milton Gallery in Crathes including new Quirky Quines and some unframed originals. There is a beautiful exhibition of work on at the moment and the gallery is gearing up for its big Christmas show soon. Always worth a visit to the picturesque setting with a wonderful restaurant at hand, just across from the beautiful Crathes Castle and Gardens.
The Milton Gallery at Crathes-Website
Follow the Milton Gallery on Facebook
Blurb Book
Thank you to Redbubble and Blurb for teaming up to give us the chance to create a portfolio book. A big thanks to Phil for doing all the technical wizardry stuff so I now have my very own self published art book. I received a copy the other day and I'm absolutely delighted with the quality !! Planning some more art books soon now we know how to do it. You can preview the book in full here and it is also available for purchase.
Imaginative Inking by Anita Inverarity
Art at the Hall
To round off the year we have 3 fantastic Photographers exhibiting during October.
Mike Crawford, Dawn Alexander and Jamie McCloy will have a wide range of beautiful works at the Hall, so hope you can join us for tea and cake sometime during October.



Opens Saturday 6th of October
Saturdays and Sunday during October
2pm- 4pm
Thank you for reading and for your support. I have a mega busy month ahead so apologies in advance if I cant get to your wonderful comments and feedback straight away (I will catch up soon). Looking forward to a few days away in the beautiful East Neuk of Fife at the start of November.
Until next time
Anita xxx