Anitas Art Newsletter April 2013

Gallery Heinzel- Spring Showcase-Animal Inspirations
Thistle Street, Aberdeen
27th April- 1st June
I'm very happy to be showing my year long project "Whisper of the Sith" as part of this showcase.
There are 7 artists exhibiting who all depict animals and wildlife in their works in very different ways.
Preview the exhibition here Gallery Heinzel Website
Read about my project here Whisper of the Sith Blog
Fin Folk- One of my pieces on show at Gallery Heinzel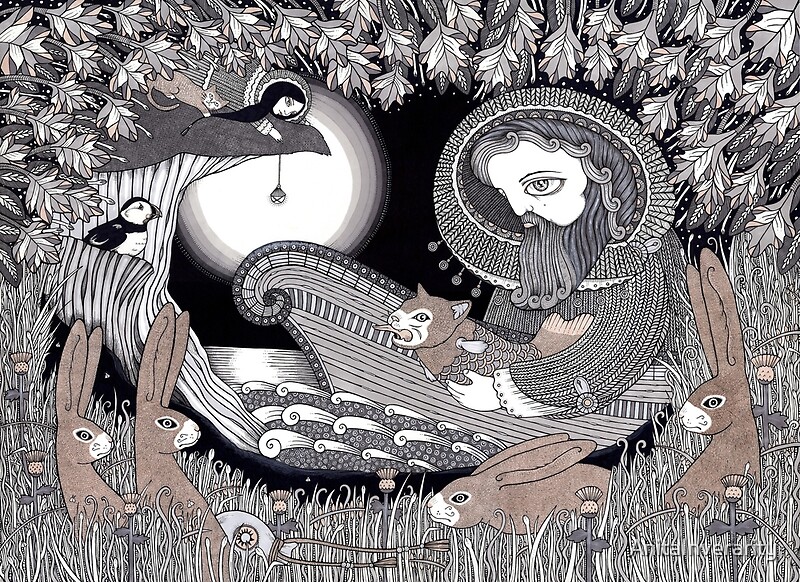 Right now I'm working on new pieces for the Milton Gallery Summer Show and this years Coast Festival which will include my first venture into using Pyrography in my art. I have some gorgeous Maple wood but I'm practicing right now before I dare touch it :) I will share the dates in my next newsletter

This is a new larger scale work which I've just had framed. Using a variety of fine point pens from a 0.3 to a tiny 0.05 on this one. She is being submitted to a Juried Show so keeping all fingers crossed for her.
Jackalope Garden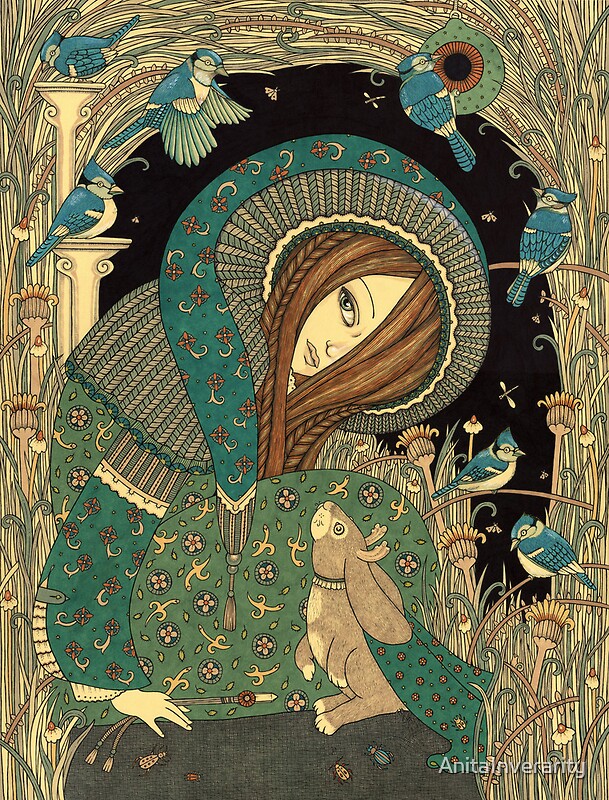 My third bird piece using ink and gold leaf is also complete (original available)
King Fisher


A couple of places where you can buy my work online…
REDBUBBLE STORE
You can find my full portfolio here on Prints, Posters, Cards, Vinyl Stickers, Clothing and iProducts. Here are a few examples.
Sanctuary Framed Print (The framed original is also available- email on ainver@f2s.com for details)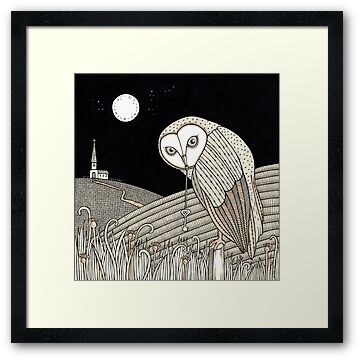 Eye of Horus- Mirrored- Back Print Tee


Haven iPad Case


On Etsy you can find my Signed Limited Edition Prints including new canvas Giclees and Original Artworks for sale. New listing are added regularly. Here are a few of things you can find on Etsy just now.
ETSY STORE
The Morrigan Signed Canvas Giclee Edition 1:10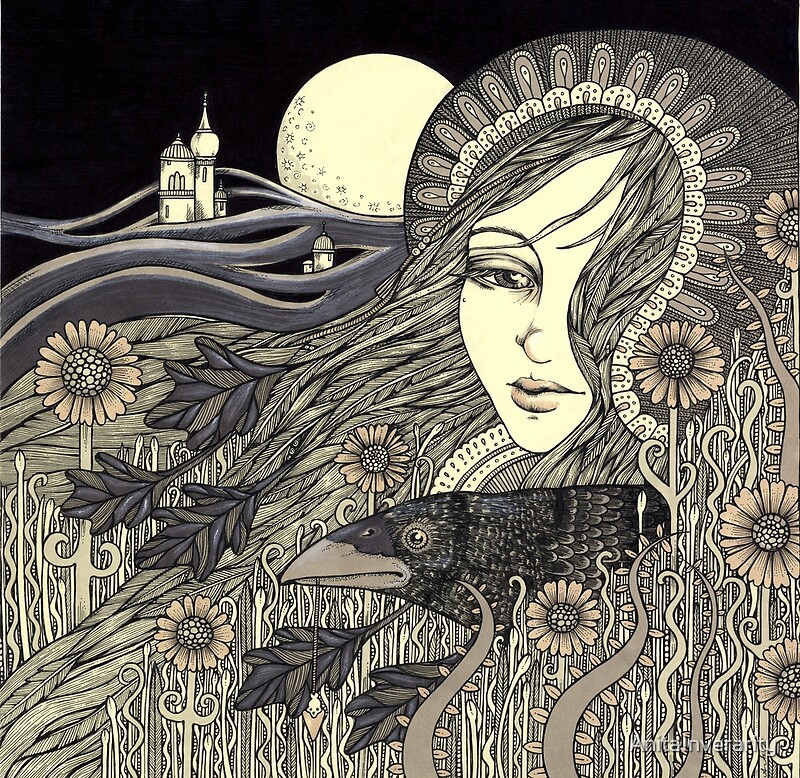 Flying Cupcakes Original Drawing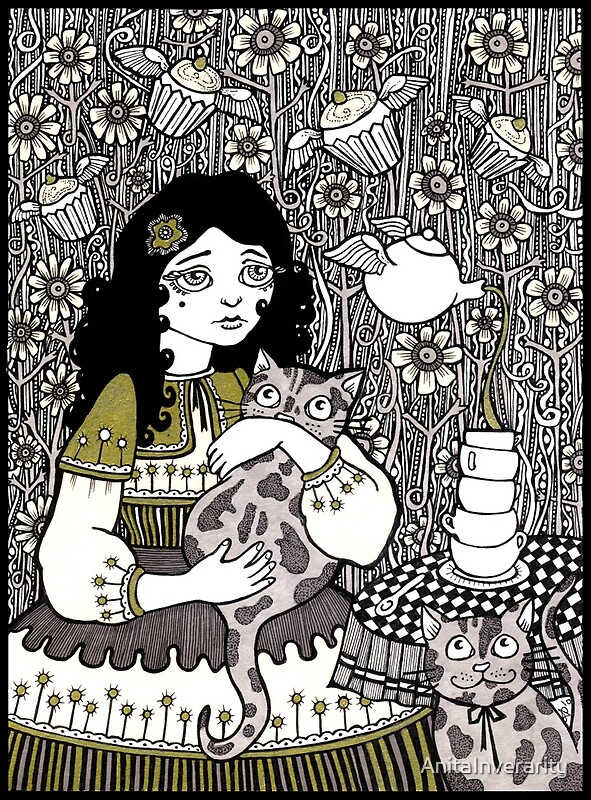 This month our drawing theme was Hijo de la Luna (Child of the Moon)- Chosen by Heather
I experimented a little with some tinted pastel paper this time with inks and a little coloured pencil.
You can view the auction pieces on our Facebook Page. Open for bidding on the 26th of April.
The Bad Apples Artist Collective Page on Facebook
Hijo de la Luna Prints on Redbubble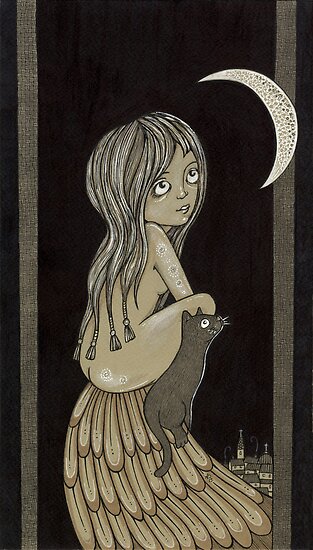 St Peters Heritage Hall
Station Road East
Peterculter
Open every weekend- Sat & Suns 2pm-4pm
Teas & Homebaking, Car Parking, Pet Friendly, Riverside Walks, Heritage Musuem and Art Exhibitions
Karen Anderson is a print maker from Greys School of Art and you can catch her wonderful exhibition until the end of April.
Our May exhibition is William Inverarity (my dad) showing a large selection of his oil and acrylic paintings. I hope you can manage along to see our exhibitions.