Warm Welcomes to my Redbubble Gallery
My Art Work Pick for July 2014
Blue Jay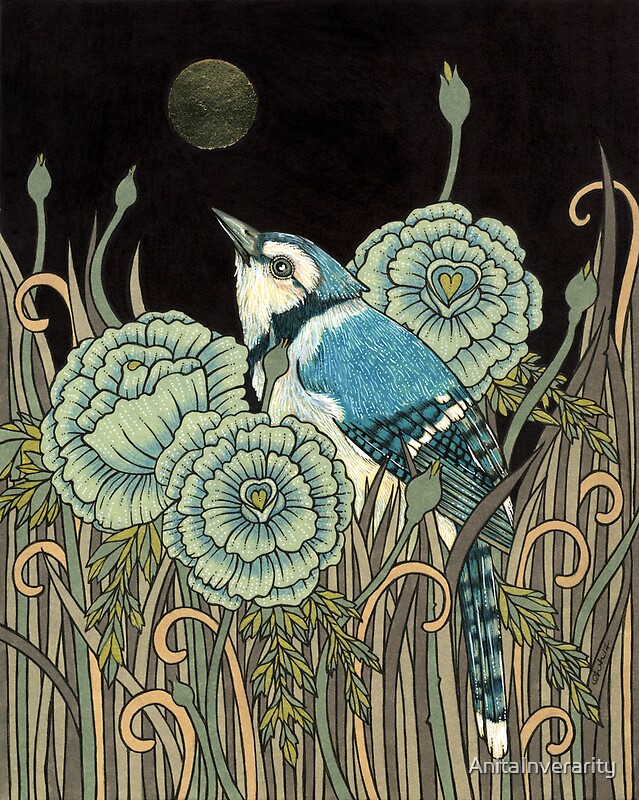 Art by Anita Inverarity on Facebook
Anitas Originals and Ltd Edition Prints on Etsy
Follow me on Twitter
Whisper of the Sith Blog
Email me to subscribe to my monthly newsletter- ainver@f2s.com
I am a Fine Art Illustrator residing in the North East of Scotland. I live in a small village on the outskirts of Aberdeen "The Granite City", a place filled with silvery grey and dark dark winters.
My preferred medium is ink and my style is illustrative. I enjoy creating highly detailed works in both black & white and colour. I have many influences which weave their way through my drawings such as… Nature & Animals, Myths, Legends & FairyTales, Cultures & Traditions, Pop Surrealism and Underground Fashion.
Anything can pop up along the way really, I do believe the imagination holds no boundaries with simple ink & paper. My recent series "Quirky Quines" is inspired by life in rural & urban Scotland.
I hope you enjoy your visit and join me on my creative journey.
Exhibiting Artist since 1985
Full Time Artist since 2011
HND in Graphic Design/Illustration
Greetings from Bonnie Scotland – Anita x
__________________________________________________________
More about Redbubble Products
Here on Redbubble you can find my work on quality products such as cards, prints in various formats, t-shirts & childrens clothes, vinyl stickers and calendars.
Quick Link to my T-shirt & clothing range
Quick Link to my Calendar Collections
Buying an Original Piece
I will indicate if the original artwork is still available in the description box. Please enquire about my original pieces through my bmail here at redbubble or through my email (ainver@f2s.com) and I will give you more information on size/price/shipping etc.
Commissions
I am happy to undertake a limited amount of commissions per year. Do contact me if you have any queries.
NB Commission slots are closed at present
Galleries
Gallery on the Corner-Edinburgh
The Milton Gallery-Crathes, Aberdeenshire
The Nicole Porter Gallery- King Street, Aberdeen
Gallery Heinzel Thistle Street Aberdeen
Gallery Q Dundee
Beauly Gallery- Beauly nr Inverness

Scroll down to find my journal for news, blogs and general updates
Awards
Aberdeen and Aberdeenshire Visual Artist Award 2012
Publications
Cover Artist Meat for Tea Issue 7 Link
Underneath the Juniper Tree- Oct & Dec Issues 2013
---
2014 Exhibitions
Kelpies & Selkies- The Yoga Tree Stirling- Feb
Natural Magick Solo Exhibition- Newton Dee Village Cafe- March 10th- April 30th
Drawing & Painting Showcase- Gallery Q- Dundee- Until 15th March
Special Guest at the Northern Arts Group Show- 22nd/23rd/29th/30th March
Cranes- Queens Cross Church Aberdeen- 18th-22nd March
The Milton Gallery Spring Exhibition- March/April
The Inverbervie Annual Group Show- Burgh Hall- April
As the Crow Flies- Corvidae Collective Gallery- Nashville US- April
The Nicole Porter Gallery Members Exhibition- May
Aberdeen Artist Society Annual Juried Exhibition- Aberdeen Art Gallery & Museums
Of Mice & Maidens- with Lesley D McKenzie- St Peters Heritage Hall- June
Gallery Heinzel Summer Exhibition ON NOW
The Bees Knees Benefit- Alexi Era Gallery US- July
Keepers of the Earth- Salem- US- Aug/Sept
Neo Symbolism (Hidden Kingdoms)- The Dream Factory, Germany- July
ArtAboyne- Victory Hall, Aboyne- July/August
Monochrome Group Show- St Peters Heritage Hall- August
AVC- Private Group Show- Altens- August
The Bad Apples Artist Collective presents Mythic- St Peters Heritage Hall- Oct-Jan
2013 Exhibitions
Nicole Porter Gallery Members Exhibition, King St Aberdeen- Feb
Inverbervie Annual Art Exhibition- March/April
The Gordon Arts Show- Inverurie- March
Redbubble Pop Up Gallery-South by South West Music Festival- Texas- March
Womankind Art Exhibition- The Belmont Picture House, Aberdeen- March 8th
Gallery Heinzel Spring Exhibition- Thistle Street, Aberdeen- 27th April-8th June
Aberdeen Artist Society Annual Juried Exhibition. Aberdeen Art Gallery (National Museums and Galleries)-11th May-29th June
Folklore, Figures & Feathers- Peterculter Heritage Hall- June with Tracey Swift
Bird- Junction Arts- Holburn Street- Aberdeen July & Aug
Art at the Airport with Gallery Heinzel- July & Aug
Forecourt Fifteen Pounds Fayre- ACVO- Aberdeen Music Hall- July 20th
Feathers, Fables & Fur- Solo Exhibition- Monymusk Art Centre August
Nicole Porter Gallery Members Exhibition, King St Aberdeen- Aug
North East Open Studios- Aberdeen Waldorf School- Sept
L'innamorato- PottersWife Gallery, Indiana, US- Sept
The Forecourt Art Group NEOS Group Exhibition- Blairs Museum- Sept
Monymusk Art Centre NEOS Group Exhibition- Sept
The Milton Gallery- Dancing Light Exhibition-Sept/Oct
The Great (Whim)BotOff with Whimsical Lush-Dundee
"Bone"-Bad Apples at Sonelab Studios, MS, US- Sept
Alice in Wonderland- The Bad Apples Artist Collective & Guests Aberdeen-Oct
Get the Lead Out V- Swoon Gallery, LA, California – Nov
Gallery Heinzel Winter Exhibition- Nov-Feb
The Milton Gallery Winter Exhibition- Nov-Feb
The Meffan Gallery Annual Juried Exhibition- Dec
The Langbyre Gallery "Naturally Square"- Dec