featured in "Poetry & Beautiful Women", "All the Colours of the rainbow", "The World As We See It Or As We Missed It" & "Love & Hugs for All"
part of my personal 365 day project LOVE
including love quotes by William Shakespeare (W.S.) & Emily Bronte (E.B.)
Location: Edinburgh, summer, a balmy sunny afternoon
Eleanor, an entrepeneur on holiday in Scotland and Flynn, a sidewalk artist who draws in public places are seen strolling leisurely through the Meadows on a sunny day in August, holding hands & enjoying some quality time together. Flynn has visited this dreamy city previously on a number of occasions and Eleanor has come to see some friends and do some photography for her websites.
It's a balmy afternoon with a clear blue sky & a light summer breeze, the sound of birds in the trees, bees looking for nectar in the flowerbeds, butterflies dancing in the air, the sweet fragrance of summer blooms fills the air with magic and the leaves on the trees rustle in a lush shade of green.
Eleanor: "I am in love with this green & pleasant place. Perfect for your murals. How did you come about drawing here? "
Flynn: "I have been invited by friends who live in Edinburgh and I have done work in various locations, drawing celtic knots, compasses and murals whenever the weather was good enough to do so, there's lots of people here to admire my work and the kids love riding around with their bikes urging me on to draw faster and making me smile. I love interacting with the public and I have many friends and fans in this city."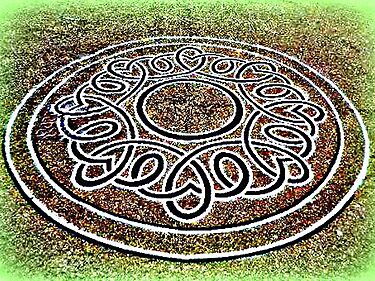 After a walk around the lush park, enjoying each others presence, squeezing each others hands and exchanging passionate kisses, Flynn with his fascinating blue eyes and natural charisma and Eleanor with her auburn wavy long hair and profuse emerald green eyes.
Flynn: "Honey, do you fancy watching me draw this afternoon for a bit of fun with the crowd and see the kids on their bikes?"
Eleanor: "I just had something along that line in mind, a few good pics of your work and the reaction of the people passing by would be a wonderful experience! I could organize some coffee and cake for us to enjoy, how about that!"
She smiles indulgently & closes her eyes as she enjoys the lightness of being.
"It is not in the stars to hold our destiny but in ourselves." (W.S.)
After sharing a coffee and pecan pie, Eleanor watches Flynn draw some lines on his Zodiac compass and he invites her to his flat for dinner.
Love looks not with the eyes, but with the mind. (W.S.)
Eleanor has a seductive look in her eyes and is flattered by Flynn's suggestion, squirming in anticipation.
"That would be ever so nice, you are such a darling & I would love to help you decorate the table and watch you cook."
Flynn: "Don't expect anything fancy, but I am sure you will like it! We will have fun!"
Saying this, he grabs her hand and plants a gentle kiss on her cheek and walks her to his friends' flat where he is staying for the summer months. There is a selection of cheeses, tomatoes and wine and a late night cigarette & beer shared on the balcony. Eleanor has been offered to stay overnight and suggests reading a chapter of Kiplings "Just So Stories" to her new friend before bedtime…"How the Whale got his throat". She loves reading bedtime stories and Flynn enjoys it immensly as he has never had a story read to him before.
"When I saw you I fell in love, and you smiled because you knew." (W.S.)
The next morning, the loving couple awakens to a bright & sunny day.
Flynn: "Good morning, honey, great to wake up with you, I've slept like a baby and I was smiling in my dreams.
Eleanor: "Good morning, sweetheart, I slept just fine & had the most wonderful dream…what a lovely day to wake up next to you, you smell so good and there's no place I would rather be!"
Flynn: "Could you please massage my shoulder, dearest, it feels very stiff this morning?"
Eleanor: "Of course, my darling, I love doing that for you and you may cream my feet as a return favour…"
Flynn enjoys having his neck and shoulders kneaded and he promises to cream Eleanor's feet later…
Flynn: "Fancy some breakfast, I am famished?"
Eleanor: "I sure do, two boiled eggs, chocolate milk and coffee for you, dearest?"
Flynn: "That would be just grand, thank you…"
Exchanging tender kisses & hugs & sharing a few more moments cuddled up together before they get up to prepare breakfast together: soft boiled eggs, chocolate milk, fresh strawberries and coffee with frothed up milk and a dusting of cinnamon, served on a silver tray with a single red rose.
Flynn: "When I'm out drawing I often just have a piece of fruit and a coffee and get some lunch while I am out. But today is special and I want to share it with you! "
Eleanor: "My favourite breakfast is Twinings lemon scented tea with milk and brown sugar, granary bread ~ toasted and spread with salted butter & marmite or Crabtree & Evelyn lemon curd. On weekends I sometimes have a cooked breakfast or eggs florentine with orange juice! And I love exotic fruit like mango & passion fruit. Sometimes I have a smoothie made with fresh berries and yoghurt. But this makes a welcome change to what I usually have!"
Flynn: "I'd keep you just for your cooking skills! Would you like to make breakfast again for us tomorrow?"
Eleanor: "Yes I would, and I would also like to cook dinner for us…"
Flynn: "…going by what I saw in your ,website, I imagine it to be a right feast!"
After a leisurely breakfast & getting dressed to go out, Eleanor slips on a pair of jeans & a dark green top, which complements her profuse green eyes & her auburn hair which is put up in a classic style to complement her cheekbones and neckline. A pair of heels, a touch of lippy & a spritz of her favourite scent complete the look and she is ready to go!
Flynn looks casual in his favourite pair of jeans, an arty T-shirt, a grey hoodie, his favourite chucks and his hair slightly tousled & a happy grin on his face.
Flynn: "You look gorgeous in jeans, very elegant. And I like your hair put up which reminds me of Jackie Kennedy."
Eleanor: "Thanks for the compliment…and you look a very handsome man whatever you wear , I am so proud to step out with you and admire your work! People will turn their heads because we look so happy together."
The two of them set off to explore the city of Edinburgh with its fabulous shops looking for a suitable gift for Flynn's mum. Hopping on and off the vintage tour routemaster, laughing and kissing and sitting in the last row at the top of the bus, holding hands and eating hazelnuts from her own garden.
Flynn squeezes her hand & they take pictures of everything in sight and of each other.
Eleanor tells Flynn about finding 33 four-leaf-clovers & 2 five-leaf ones as a special good-luck-charm to indicate all her wishes & desires would come true, meeting her perfect match being one of them! They both have a passion for the oldfashioned way, writing postcards and letters and Flynn sends some out to his friends every day, decorated with glitter or cut into pieces as part of a puzzle.
Whatever souls are made of, his and mine are the same. (E.B.)
Eleanor puts on her favourite Karma perfume & a passion fruit lip balm, smelling good enough eat. Flynn can't stop kissing her luscious lips & they're having dinner out tonight, at a local bar Flynn likes to frequent.
Flynn: "I have been a secret LUSH for years…and I love KARMA…"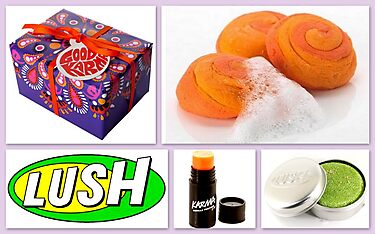 Back in the flat, the two of them dance closely together to their favourite music. There's an electrifying energy between them & they feel very much at ease with each other.
Flynn: "If you come near me I will take you under the covers … and you will be mine. I will find my way deep inside you and we will stay like that for hours…to me sex is love. I'd like to pin you into a corner and push your knees to your shoulders so I can go really deep and just slowly let you get used to me, then harder…I like to kiss when I'm inside… that makes me come quicker…I am throbbing now, I can feel it."
Eleanor: "Woah, I am a bit on fire inside after hearing that…sounds just wonderful!"
Love sought is good, but given unsought, is better. (W.S.)
Eleanor suggests a nice evening walk to watch the stars and to make for a good night's sleep. Flynn walks closely to her with his arm around her shoulders to keep them warm. Eleanor: "I love it when a man makes me feel safe and protected."
Flynn: "And you have so many looks … you are a very pretty female, your eyes and the way you look out at me make me throb, you look so soft and yummy!"
Back at home, they cuddle up to each other & drift off into a good night's sleep.
Eleanor: "Night knight darling, thank you for a wonderful day. I would love to support your work on my website and when it sells, the proceeds will go to you…and I am sure it is going to sell like hot cookies…"
Flynn: "That's a wonderful idea! I am very flattered! Very very….Thank you for being the most wonderful person to ever grace my world, and for finding me and coming into my life, honey! You are like the bees bum.. pure rich HONEY … you do whatever you like with what you have created … its yours.. OURS .. I'd like to say … if it gets me time with you than put it in that fund! I like your mindset… "
Love comforts like sunshine after rain. (W.S.)
9 a.m. the next morning, Eleanor wakes with a smile & another sunny day lies ahead of them as she brushes her teeth with Euthymol toothpaste & her best Beloved suggests having a shower together, gently washing each others bodies with Karma.
Flynn: "I love sharing showers and getting my shoulders massaged in the morning as they are so stiff after a day of drawing on my hands and knees… I thought of washing you and then get down on my knees pushing my face into you from behind … while rubbing your back and thighs you pushing back into me…the water making your hips shine … then I stand up and let you run your nails down the front of my chest to my … then you start to kiss and enjoy me… then in my mind I end up with you in the corner of my room. I just like that kind of thing I guess… it's like when I am inside of a female … I like to just push deep and stay … and let her squeeze me with her inner muscles … then I throb back."
Eleanor: "Sounds very exciting and I get all hot just thinking about all that….I would love to do all that with you sweetheart, willingly and happily!"
Flynn: "You could come over and sit on my lap and curl up like a ball and I would smell you and get all excited…I had a dream I was cuddling with you…it was so nice to run my hands along your thighs…"
Eleanor: "Your dream sounds ever so sexy…I would like to experience that for real…soon…but first let's go to the bakery for some fresh well fired morning rolls. I will paint smiling faces on our eggs when we get back and set the table as I would at home…and I promise to sit on your lap and curl up like a ball or let you push me into the corner like you suggested….I am sure I will like it too…in fact, I KNOW I DO…"
It's lovely & warm outside and the scent of freshly baked bread fills the fragrant morning air. Everyone is friendy & greets them with a smile, both of them feel so happy they could hug the whole world!
Milky coffee with cinnamon, hot fired rolls, salted butter & soft boiled eggs is their breakfast for today.
Eleanor: "What are your plans for today, dear?"
Flynn: "As the weather is fine, I will continue filling in my compass in the park to get it finished by tonight. You fancy meeting me later?…I will text you when I am ready!"
Eleanor: "I'd love to and I shall be back before you know it, meanwhile I'll have fun at the shops and pampering myself at the LUSH SPA." He kisses her and hugs her tightly and wishes her a good day!
Flynn: "What shall we have for dinner sweetheart…how about each other ?
Eleanor: "Yes that would be good for starters, mains and dessert….delish…that would be wonderful…but I will also prepare an awesome dinner for us….my favourite Sicilian dish "Agro Dolce" followed by "Baked Alaska"…"
She dresses elegantly, decorates the table with fresh flowers and has prepared a lovely meal for two as she sets off to meet her Best Beloved in the park to pick him up…
Flynn has picked a bouquet of wild flowers to express his love for her in his own special way: "These are for you, my love, and there's a little surprise present with them!"
Eleanor is overwhelmed by his sweet romantic gesture. He takes her hand and lifts it to his lips for a tender kiss.
Flynn: "You deserve it so much for making me a better person and for your kindness!"
Eleanor: "I love your thoughtfulness and the way you surprise me, darling!"
The heartfelt love and excitement is felt deeply between them.
The delicious scent of the Agro Dolce fills the room and Flynn brings out a toast with a glass of Prosecco Aperol to Eleanor for cooking dinner for them:
"You are such a creative person in everything you do & I am looking forward to enjoying this gorgeous Italian dinner with you!"
Eleanor made Bruschetta with tomatoes, onions, basil, pepper and extra virgin olive oil as an appetizer. Flynn decants the fruity Sicilian red wine and Eleanor takes the Agro Dolce out of the oven to serve, a Sicilian dish made with chicken & potatoes infused with herbs, tomatoes, lemon & wine.
Classical Italian music sounds as they clear the table to make space for the dessert: Cappuccini and Baked Alaska, a special igloo shaped dessert made with ice cream on top of a biscuit base, topped with lightly flamed meringue and served with fresh gingered fruit salad. Flynn indulges in this gorgeous pudding, feeding Eleanor from his spoon & exchanging sweet kisses in between: "Honey, your lips taste irresistible with a touch of meringue on them!"
Eleanor: "So do yours, sweetheart, I can't get enough of your passionate kisses!"
Flynn: "And I can't get enough of your delicious cooking…and you are so smart… it makes you even more sexy."
A nightcap at a local pub and a shared cigarette on the way home finishes the wonderful evening before they snuggle up together.
Eleanor: "Are you looking forward to going back home?"
Flynn: "Not really, I would like to go back and sell everything and leave I think .. for good … maybe visit there once and a while. My adopted mother would be the only reason I would stay."
"They do not love that do not show their love." William Shakespeare
Since they live in two different countries, some time passes before they shall meet again.
In the meantime, they keep up contact by writing letters and postcards, exchanging messages and chatting online and per skype.
Eleanor misses him lots since he has gone back to Canada…and she writes daily to her Best Beloved…and she is with him in her thoughts always…
Flynn: "I will write you postcards .. and give them some of my scent… we will meet again that I am very sure of…and we will make love like there is no tomorrow…in the shower then in the hall then in the kitchen and then in bed and wherever else it takes us."
Eleanor: "sounds wonderful to me…maybe continue on the sofa or walking up the stairs…or outside somewhere…"
Flynn: "wow, yes the sofa … how could I forget that… :)
I can feel you're on fire honey … I want to taste you and hear your pleasure…see your eyes roll into the back of your head … hear you pant from me pumping you… I want to watch you … and see your ways …I like puffy nipples a lot they makes me crazy… then you can bring your warm mouth around to the side of my hip and suck my tip as it reaches out that far . :) it would be yours … I would also keep you around just for your many talents & skills … and the look on your face… you're so cool. I like your passion."
Eleanor: "…and I would keep you just for how you talk and write to me and show your love… how you express yourself and pick flowers and put them in my hair, caress my cheek and tell me you care and fancy me often…"
Flynn: "…and draw your years of life in hearts around your door or the places you stop and stand so you know whereever you are on earth, I am with you!"
Eleanor: "that sounds just like you … I could easily find you a job in my hometown like gardening, cutting grass, snowclearing, renovating things…and you could do your art in our beautiful cities, the people would love you and your murals and you'd make hundreds of new friends in no time at all!"
Flynn: "this sounds too good .. I think you are going to make breathing air like sugar in my lungs. I could live and love with you and do my art in other places but keep my heart in yours. I'm so full of your love… "
Eleanor: "sounds kewl…let's do it honey!"
Flynn: "…whatever happens will happen okay??? so when you worry if I'm really there for you even though you think I'm not .. I AM… I have often said I will be taken not found …or found and taken :) in love … just personally to me … when I talk to me about love … Im like NO you are going to be picked… "
Eleanor: "makes perfect sense and it's reassuring! I am sure I cope well eough with being apart for a time…LOVE is…laughing together…the joy of seeing and touching each other… enjoying each others company. Cannot eat in the morning because I love you…can't eat lunch or dinner because I love you! And in the night I can't sleep because Im HUNGRY…home is not where we live but where we are loved…not beauty decides who we love…love decides who we find beautiful!"
Flynn: "Well said, sweetheart…you are coming through loud and clear!"
Eleanor: "See you soon…Best Beloved…and next time you come over, stay indefinitely…"
Flynn: "Might just consider that…"xoxo
Eleanor: "THANK YOU for everything…for sharing 6 unforgettable and wonderful days … for all the wonderful things you brought me, the LUSH products, the bags of cilantro that I froze and still use, the big rock and the wee green stone, the wooden triangle with amber glass you made and gave me, the wonderful mural in my carport complete with heart, the snail you painted with orange glitter, the wonderful foot massages, squeezing and holding hands, dancing in my dayroom to Saturday Night Fever, sitting on my balcony watching stars, smiling at me the way you did, the way you looked at me in my car and when I put my hair up, sharing cigarettes and craft beers, notably the WB Birds & Bees after finishing the mural, coffees, chocolate milk & boiled eggs, all the lunches and dinners in the garden and on the balcony, for loving my mum's green bean salad so much you drank the dressing from the bowl, the countless BBQs, for the little pink heart you picked up on the street in Schongau, for folding the end of the toilet roll into a V like they do in good hotels, for all that you are to me, for all the kind words, for being my truest friend and for sending me the little green stone and returning the money for the flight I booked for you … THANK YOU for the lessons I have learnt and those I am still to learn … "
Flynn: "We will have a live chat very soon :) please go and have fun and let people enjoy you … you are a treat to be shared and enjoyed. I'm going to make sure things run smooth like the skin under my arms … bye sweet girl…there is more to come for us both!"
As the anticipation to their next encounter draws closer, Eleanor is looking forward to more unforgettable memories… like ice-skating, watching hockey games, sharing good food, mulled wine, beer, riding her motorbike together, visiting Bavarian castles and enjoying mountain views and beergardens, and cherishing their treasured moments together… again and again…!
Lovers don't finally meet somewhere. They're in each other all along. (W.S.)
Journey's end in lovers meeting. (W.S.)