3697 views ~10 Greeting cards sold
more cards in this series: CELTIC FC ~ You'll never walk alone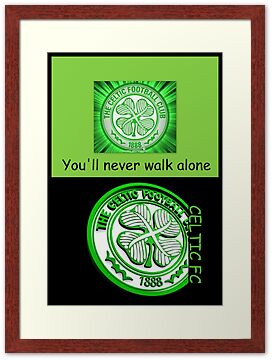 The Celtic Football Club is a Scottish football club. The club has the official nickname of "The Bhoys", they play their home games in green and white striped vest ( emerald green & white hoops ) at Celtic Park (nickname: Paradise ) in the suburb of Bridgeton / Parkhead.
Celtic Glasgow was founded on 6 November 1887 at the St. Mary's Hall on East Rose Street by monk Brother Walfrid as Celtic Football and Athletic Club. Shortly thereafter, a meadow at the Dalmarnock Street was rented, where on 13 November the first game in a venue called Celtic Park was held. Hibernian and Cowlairs parted 0-0. On 28 May 1888 was the first own game: In a " friendly match ". First goal scorer was Neil McCallum. On 21 August 1888 entered the Society of Glasgow and Scottish Football Association, in 1892 the team won the first Scottish Cup. Between 1905 and 1910 the championship was won six times in a row. 1907 and 1908, Celtic won even double – an achievement that no team had previously managed in Scotland. Another winning streak was erected 1914-1917 with four league titles in a row. Celtic won the Scottish Cup in 1937 before a record crowd of 146 433 spectators at Hampden Park . This is still a European club record.
1953 Celtic win the Coronation Cup in honor of the coronation of Queen Elizabeth II and sat down against the representatives of the entire kingdom.
1967 Celtic Glasgow was the first non-British and Southern European team to a victory over Inter Milan, the European Champion Clubs' Cup to win. European Cup champions, national championship, national cup, League Cup and Glasgow Cup this year won the club every trophy that could be won. The return match at Hampden Park was watched by 133 961 spectators – still the highest number of audience in a European Cup game.
1974 Celtic won the Scottish Cup for the ninth year in a row, which was then a new world record represented. In 1988 the club celebrated its 100th anniversary by winning the doubles.
The best known songs played at every CELTIC game are "You 'll Never Walk Alone" and "Fields of Athenry".