featured in Bee & Wasp passions & Bugs and Animals on Flowers in Macro 753 views
captured in Head of Muir, Scotland with a Olympus Digital Compact Camera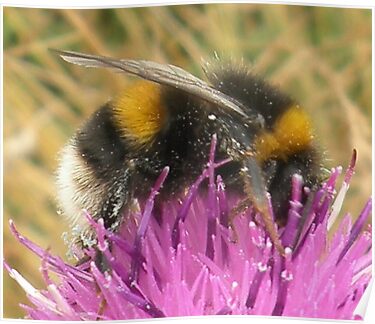 A bumble bee is a member of the bee genus Bombus, in the family Apidae. There are over 250 known species.
Bumble bees are social insects that are characterised by black and yellow body hairs, often in bands.
Bumble bees feed on nectar and gather pollen to feed their young.
Once they have collected nectar and pollen, bumble bees return to the nest and deposit the harvested nectar and pollen into brood cells, or into wax cells for storage. Unlike honey bees, bumble bees only store a few days' worth of food and so are much more vulnerable to food shortages.
According to 20th century folklore, the laws of aerodynamics prove that the bumble bee should be incapable of flight, as it does not have the capacity (in terms of wing size or beats per second) to achieve flight with the degree of wing loading necessary.