my dad Peter aged 21 winning the shooting championship of the Munich Oktoberfest in 1958, the youngest champion ever in the history of the Oktoberfest.
featured in "The Family Album" 1533 views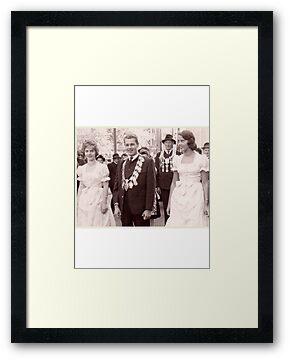 The Oktoberfest is a 16-day festival held each year in Munich, Bavaria, running from late September to early October. It is one of the most famous events in Germany and the world's largest fair, with some six million people attending every year, and is an important part of Bavarian culture.
The original "Oktoberfest" occurred on October 18, 1810: For the commemoration of their marriage, Crown Prince Ludwig (later King Ludwig I) and Princess Therese of Saxe-Hildburghausen (namesake of the Theresienwiese festival grounds) organized a great horse race (the marriage took place on October 12; the horse race on October 17 — therefore, there are different dates named as being the first Oktoberfest).
To honour the marriage of King Ludwig I and Therese of Bavaria, a parade took place for the first time in 1835. Since 1850, this has become a yearly event and an important component of the Oktoberfest. 8,000 people — mostly from Bavaria — in traditional costumes walk from Maximilian Street, through the centre of Munich, to the Oktoberfest. The march is led by the Münchner Kindl.
Since 1850, the statue of Bavaria has watched the Oktoberfest. This worldly Bavarian patron was first sketched by Leo von Klenze in a classic style and Ludwig Michael Schwanthaler romanticised and "Germanised" the draft; it was constructed by Johann Baptist Stiglmaier and Ferdinand von Miller.
Since 1950, there has been a traditional festival opening: A twelve gun salute and the tapping of the first keg of Oktoberfest beer at 12:00 by the incumbent Mayor of Munich with the cry "O'zapft is!" ("It's tapped!" in the Austro-Bavarian language) opens the Oktoberfest. The Mayor then gives the first beer to the Minister-President of the State of Bavaria. The first mayor to tap the keg was Thomas Wimmer.
By 1960, the Oktoberfest had turned into an enormous world-famous festival. After this foreigners began to picture Germans as wearing the Sennerhut, Lederhosen, and the girls in Dirndl. Horse races ended in 1960.
2010 marked the 200th Anniversary of Oktoberfest.
Shooting championships take place at the Schützenfesthalle: The space for seating is only half of the other big beer tents, because it contains the hall where shooting clubs host their championships. Many members of nobility celebrate here and several charity events take place (then virtually the complete tent is reserved for invited guests only).