split tone image of this beautiful bridge
Also known as Ponte della Maddalena (Bridge of Mary Magdalene), il Ponte del Diavolo (the Bridge of the Devil) crosses the Serchio river in the province of Lucca, Tuscany, Italy.
Legend has it that the Devil built the bridge for the townsfolk of Borgo a Mozzano in Tuscany, on the condition that he could claim the first soul to cross the bridge. As soon as the Ponte del Diavolo bridge was completed the people outwitted Satan by sending a dog across the bridge.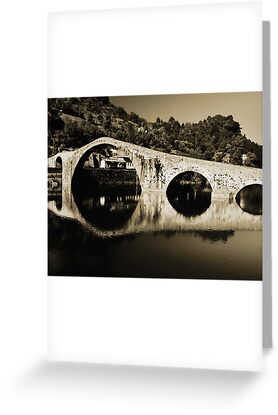 Another view of the bridge: