Blackrock Castle,old postcard from 1890
Digital painting(photoshop,pen tablet and texture)
Before 14″ × 9″ after 58″ × 30″
Inspired by beautiful old castles.
My new vector illustrations to http://www.canstockphoto.com/stock-image-portfo...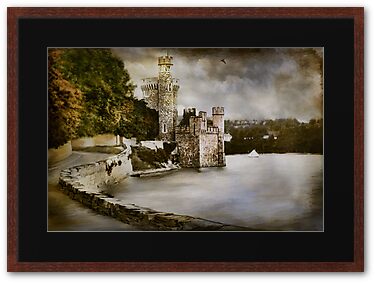 Blackrock Castle, formerly Mahon Castle, is a 16th century castle located about 2km from the heart of Cork city, Ireland on the banks of the River Lee.
In the late 16th century, the citizens of Cork appealed to Queen Elizabeth I to construct a fort at Blackrock to "repel pirates and other invaders". In or around 1600, a round tower was constructed to safeguard against pirates "carrying away" vessels entering the harbour. Earliest remains today are a circular tower right on the water's edge, 10.5m in diameter, with walls 2.2m thick to withstand cannons.
Blackrock Castle was in the ownership of the City of Cork following a charter of James I to the City in 1608. The castle is later referred to in the Council Book of Cork in 1613 and 1614. In 1722 the old four-storey tower was destroyed by fire and new one built by the citizens, costing £296.