I am a Melbourne based photographer drawn to the urban landscape, street photography and the lines and repetition found in architecture. More recently I have felt the urge to write and have enjoyed scratching that itch ever since.
I am keen to explore opportunities that will allow me to combine my photography and writing and as a result, I recently published the iPhone app Melbourne Photo Travel Guide – A Photographers Guide to Melbourne that fits in your pocket and is available from the iTunes store.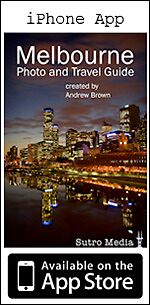 For more about Andrew Brown Photography visit the website and blog. I drop the occasional tweet on Twitter @"ABrownPhoto":http://www.twitter.com/ABrownPhoto so follow along.
All images can be licensed on a royalty free, non-exclusive basis. Please contact me directly for pricing.
Photography – All Occasions
Contact Details
Mobile: +61 0403 709 010
info@andrewbrownphotography.com.au or Bubblemail me.
Exhibited
2010
Through Your Eyes Photography Exhibition, CERES Community Environment Park. Nov 2010
Entry 20.10 Salon Exhibition, Brunswick Arts Space 05/02/2010 – 20/02/2010
2009
Head On – Alternative Portraits. Shortlisted Self portrait. Toured Australian Centre for Photography, Sydney and Obscura Gallery, St Kilda.
Kodak Salon, Centre for Contemporary Photography, April – May, Sit a while
Entry 09 Salon Exhibition, Brunswick Arts Space – Overhead
2008
Brunswick Street Gallery – August, Small group exhibition – Arches #1
Brunswick Street Gallery – July, Small group exhibition – Overhead
Gallery 696 – Skull tees and cards, on-going display and sales
Kodak Salon, Centre for Contemporary Photography – Yarra River by night
2007
Finalist – My Favourite Travel Photo Exhibition and Fundraising Auction – Mt Ngauruhoe
Published and Writings
iPhone / iPad App – Melbourne Photo Travel Guide
Freephotoguides Australia – Victoria
A Photographers Guide to Webb Bridge
A Photographers Guide to St Kilda Pier and Historic Kiosk
2008 Snapshots – [Self] A collection of images celebrating among other things, my first 12 months at RB.
2007 "The Age" newspaper travel – Heavenly