Another beautifully decorated and well presented strawberry cupcake made by our Daughter Haydene. We are so proud of her and there does not seem to be any end to her wonderful talent….
Dedicated to all Mum's who are proud of their daughters…
Panasonic Lumix 2012 Christchurch New Zealand
Good Luck!! – Cupcake By Haydene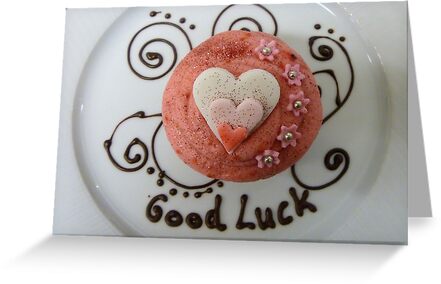 Luck or fortunity is good fortune which occurs beyond one's control, without regard to one's will, intention, or desired result. There are at least two senses people usually mean when they use the term, the prescriptive sense and the descriptive sense. In the prescriptive sense, luck is the supernatural and deterministic concept that there are forces (e.g. gods or spirits) which prescribe that certain events occur very much the way the laws of physics will prescribe that certain events occur. It is the prescriptive sense that people mean when they state that they "do not believe in luck". In the descriptive sense, luck is merely a name we give to events after they occur which we find to be fortuitous and perhaps improbable.
Cultural views of luck vary from perceiving luck as a matter of random chance to attributing to luck explanations of faith or superstition. For example, the Romans believed in the embodiment of luck as the goddess Fortuna, while the philosopher Daniel Dennett believes that "luck is mere luck" rather than a property of a person or thing.