The year 2012 is a leap year. A leap year is a year in which one extra day is added at the end of February and consists of 366 days. The extra day, February 29 is the leap day of the leap year and has been associated with age-old traditions, superstitions and folklore.
A Brand New Year Is Born…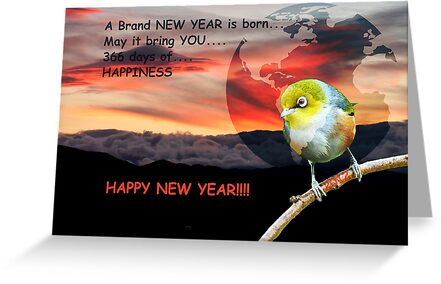 Dedicated to all OUR Fellow Red Bubble Friends all over the world, wishing YOU a happy LEAP YEAR!!!
Thank you for your friendship and support through out 2011.
May this year of 2012 be….
A Year of Health & Happiness…
A Year of Wealth & Wisdom…
A Year of Peace & Prosperity…
A Year of Glee & Glow… And also…
A Year of Love & Laughter…
HAPPY NEW YEAR!!
FEATURED JAN 2012: CARDS FOR SALE, JUST FOR YOU DEDICATIONS
If you look at a 2012 calendar, you will see that February has five Wednesdays – the month begins and ends on a Wednesday. Between the years 1904 and 2096, leap years that share the same day of week repeat every 28 years. The most recent year in which February comprised of five Wednesdays was in 1984, and the next occurrence will be in 2040.
FEATURED JAN 2012