Dinky duck goes for a walk each day to the big pond at the Pukerau Nursery where there are other ducks. She may want to leave home someday and find a mate and raise a family of her own. "Monkey" came to see what was going on in her garden…. A flowering Rhododendron made a lovely back round as she stood observing us…
Have You Seen A Duckling?


The word cat derives from Old English catt, which belongs to a group of related words in European languages, including Welsh cath, Spanish gato, French chat (French pronunciation: Basque katu, Byzantine Greek κάτια kátia, Old Irish cat, Frisian and Dutch kat, German Katze, Lithuanian katė, Finnish Kissa, Armenian katu, and Old Church Slavonic kotka. The ultimate source of all these terms is Late Latin catus, cattus, catta "domestic cat", as opposed to feles 'European wildcat'. It is unclear whether the Greek or the Latin came first, but, like Arabic qiṭṭ and Nubian kàdíís, they were undoubtedly borrowed from a word in an Afro-Asiatic language akin to Berber kaddîska, meaning 'wildcat'. The term puss (as in pussycat) may come from Dutch poes or from Low German Puuskatte, dialectal Swedish kattepus, or Norwegian pus, pusekatt, all of which primarily denote a woman and, by extension, a female cat. A group of cats is referred to as a "clowder", a male cat is called a "tom" (or a "gib", if neutered), and a female is called a "molly" or "queen". The male progenitor of a cat, especially a pedigreed cat, is its "sire", and its female progenitor is its "dam". An immature cat is called a "kitten" (which is also an alternative name for young rats, rabbits, hedgehogs, beavers, squirrels and skunks). In medieval Britain, the word kitten was interchangeable with the word catling.
Panasonic Lumix DMC-FZ35 Southland New Zealand Nov. 2011
Have You Seen A Duckling?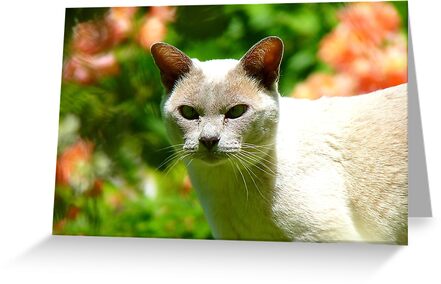 FEATURED: PETS ARE US
Thats One Mighty Big Fowl! – Kitten

Oooh Yum..That Looks Like Dinner!! – Tom Cat


Featured 27th Nov. 2011