Sunshine our Crazy Dancing Parrot (Sun Conure) loves music, as soon as Keith brings the guitar out he flies over lands on Keith's shoulder and bops to the beat, he loves to get close often popping on the edge of the guitar while Keith is playing. Sunshine is not afraid of much and will join in on anything that is going on in our household. Watch a small youtube video clip on Sunshine bopping to Keith playing house of the rising sun on the guitar. Best viewed large…
Panasonic Lumix DMC-FZ35 Southland NZ September 2011

FEATURED: Pets Are Us,
Music Is My Life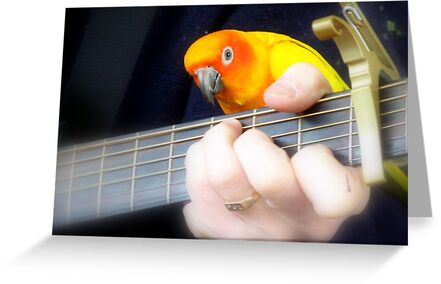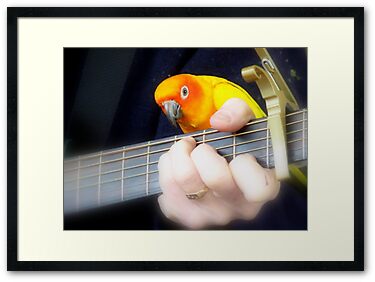 "The House of the Rising Sun" is a folk song from the United States. Also called "House of the Rising Sun" or occasionally "Rising Sun Blues", it tells of a life gone wrong in New Orleans. The most successful commercial version was recorded by the English rock group The Animals in 1964, which was a number one hit in the United States, United Kingdom, Sweden, Finland and Canada.
I'm Singing In The Rain..!!! – Sun Conure

The Sun Conure bird is a small, beautiful parrot similar to the macaw in features yet very distinguishable in its own. Their bodies' hold a yellow to orange hue resembling a deep bright gold overlayed with brilliant blends of green and red & blue which definitely outshines most birds in the sky.The average lifespan of a sun conure is about 15 to 25 years which makes them great loyal pet birds for a long time. They are easy to raise and maintain plus they will bring hours of joy to you and your family because of their cuddly, lovable and charming personalities. The origins of a sun conure bird start in the Amazon River from the eastern parts of South America. Sunshine was hand raised by a breeder in Christchurch. He is very much a part of our family and it is hard to imagine a life without him now…
Featured September 28th 2011