Please view large…thank you..
When the morning dew clings to the webs and the sun rises, it is a beautiful scene looking across the paddocks at all the beautifully built homes on the weeds…nature is so magnificent, her beauty is everywhere…
A spider web, spiderweb, spider's web or cobweb (from the obsolete word coppe, meaning "spider") is a device built by a spider out of proteinaceous spider silk extruded from its spinnerets. Spider webs have existed for at least 140 million years, as witnessed in a rare find of Early Cretaceous amber from Sussex, southern England. Insects can get trapped in spider webs, providing nutrition to the spider; however, not all spiders build webs to catch prey, and some do not build webs at all. The main difference between spider webs and cobwebs is that spider webs are still in use, while cobwebs are webs that have been abandoned. Spiders originally started producing silk for reasons other than web-making. When spiders moved from the water to the land in the Early Devonian period, they started making silk to protect their bodies and their eggs. Spiders gradually started using silk for hunting purposes, first as guide lines and signal lines, then as ground or bush webs, and eventually as the aerial webs which are so famous today. Spiders produce silken thread using several paired spinneret glands located at the tip of their abdomen. Each gland produces a thread for a special purpose – for example a trailed safety line, sticky silk for trapping prey or fine silk for wrapping it. Spiders use different gland types to produce different silks, and some spiders are capable of producing up to 8 different silks during their lifetime. Most spiders have three pairs of spinnerets, each having its own function – there are also spiders with just one pair and others with as many as four pairs. Webs allow a spider to catch prey without having to expend energy by running it down. Thus it is an efficient method of gathering food. However, constructing the web is in itself an energetically costly process due to the large amount of protein required, in the form of silk. In addition, after a time the silk will lose its stickiness and thus become inefficient at capturing prey. It is not uncommon for spiders to eat their own web daily to recoup some of the energy used in spinning. The silk proteins are thus recycled. The tensile strength of spider silk is greater than the same weight of steel and has much greater elasticity. Its microstructure is under investigation for potential applications in industry, including bullet-proof vests and artificial tendons. Researchers have used genetically modified mammals to produce the proteins needed to make this material.
Panasonic Lumix DMC-FZ35 Southland New Zealand Aug. 2011
A Beautiful Home…Or A Deadly Trap..?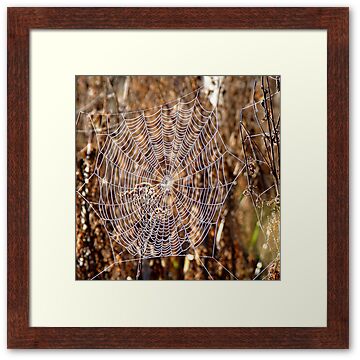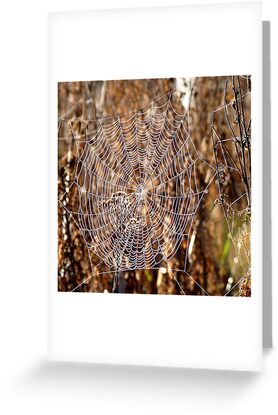 Sparkling Bubbles In The Sky – Raindrops on Web