Bits of compacted snow lie in the shadows where then sun can not reach, blue skies and a sunny day today, hard to believe that the garden was all white yesterday. The birds are much happier in the sunshine…
One of the many snow captures taken yesterday, of the cute little Silvereyes/waxeyes/white-eyes sprinkled with a few flakes and sifting through the snow to get at the apple. They are all back in force and I think that all the neighbourhood birds have decided to move in. I say welcome…we will just increase the apple bill to accommodate them all. Sitting outside these days is like listening to bird song in stereo, such a wonderful sound…
Panasonic Lumix DMC-FZ35 July 25th 2011 Southland New Zealand
I Know There's got to be Fruit In Here!!!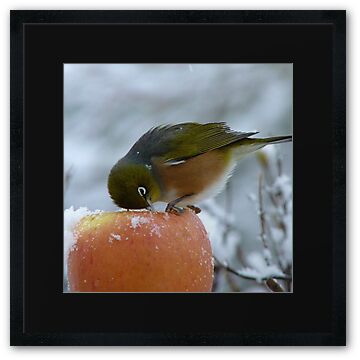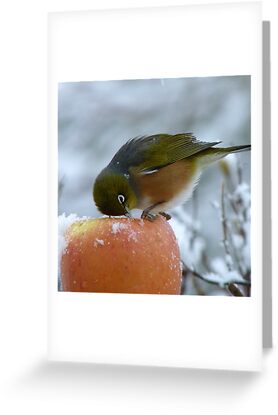 Gee Wizzzz… Guess What I Woke Up To This Morning!