We woke this morning to snow flakes falling and looking like small white feathers drifting from the morning sky, ther's lots of fluffy white flakes floating in the breeze and landing on the trees…a hush embraces out little paradise "tranquillity" Nature covers her in a delicate white coat.
The wax-eye turns his face up to the sky as if to say, "why oh why!!! is my apple frozen today!!!".
I love the snow, it feels timeless and so silent and you can not beat it's beauty. I feel for our little feathered friends and have been out several times today to brush the snow from their apples. I have even resorted to making them some warm oats with sugar water and the feeding table has become a feeding frenzy. I have put some seed in the open shed for the sparrows so that they all get enough to eat. Most of the ground is covered in a white blanket concealing the natural foods they would normally eat. So far I have spent the day feeding birds and capturing the magic the snow brings. Our poor hard drive is going to be groaning….
Panasonic Lumix DMC FZ35 24th July 2011
Geeezzz!! Guess What I Woke Up To This Morning!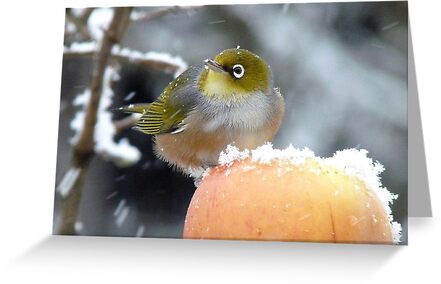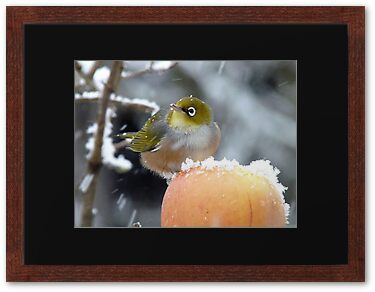 Don't I Look Beautiful With A Snow Crown!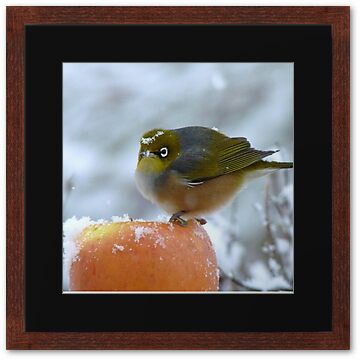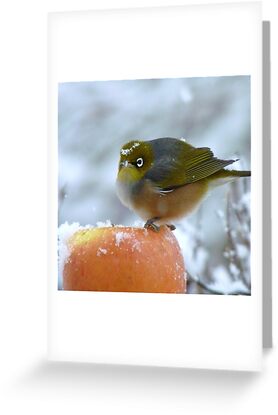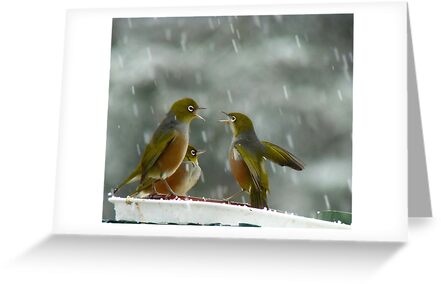 A snow dispute…