Please view Large, thank you…
The goldfinch is spectacularly coloured, with patches of red, black, gold, brown and white. The female builds the nest and incubates the eggs. After hatching, the female stays in the nest with the chicks for the first week. The male feeds the female who, in turn, feeds the nestlings. During the next two weeks both parents feed the chicks by regurgitation. Finches are small birds, with short, conical beaks designed for eating seeds. Some are brightly coloured, particularly males, and most are gregarious, with tuneful songs. Four species were successfully introduced to New Zealand.
I was surprised to see the little gold finch eating berries, it always thought that they were seed eaters, it appears not. I guess when seeds are not plentiful they will eat berries to survive.
Panasonic Lumix DMC-FZ35 Southland New Zealand
Featured 24th June 2011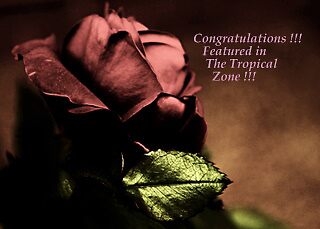 Desperate Measures! – Goldfinch Eating Berries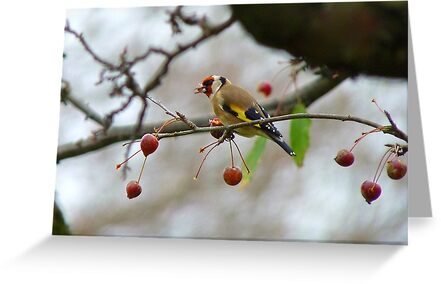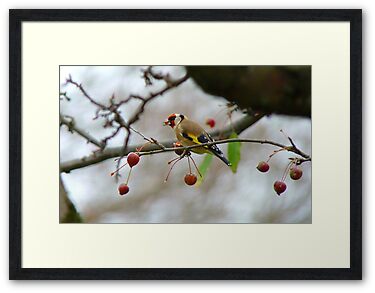 Chaffinches: The natural range of the chaffinch (Fringilla coelebs) is from Europe and North Africa to Central Asia.
Greenfinches: The natural range of greenfinches (Carduelis chloris) is from Europe and North Africa to western Asia.
Goldfinches: About 500 goldfinches (Carduelis carduelis) were released by acclimatisation societies between 1862 and 1883. They are native to Europe, North Africa and western Asia. Now they are spread over most of New Zealand, other than heavily forested or alpine areas. They have also reached most of the outer island groups.
Redpolls: The redpoll (Carduelis flammea), the smallest of the introduced finches, is native to Europe, Asia and North America. It is now common in the South Island and lower North Island from sea level to the subalpine zone, preferring drier and higher country. In winter they gather in flocks.
Hey, There Is Plenty Down Here! – Chaffinch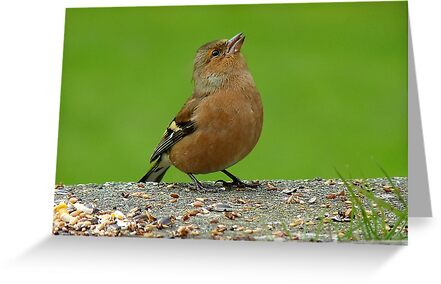 Realy Tasty – Redpoll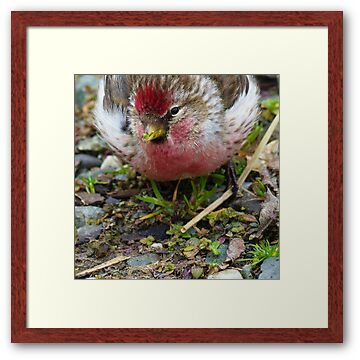 Greenfinch