Please view Large for full effect, thank you.
This young fellow seems to have misplaced his sense of humour, he may have been part of an April Fools day trick.
Happy April Fools Day…..
These little birds have so much character, their expressions are priceless, each photograph reveals a new expression and they would have to be one of my most favorite of all the little birds…
April Fools' Day is celebrated in different countries around the world on the April 1 of every year. Sometimes referred to as All Fools' Day, April 1 is not a national holiday, but is widely recognized and celebrated as a day where many people play all kinds of jokes and foolishness. The day is marked by the commission of good humoured or funny jokes, hoaxes, and other practical jokes of varying sophistication on friends, family members, teachers, neighbors, work associates, etc.
The earliest recorded association between April 1 and foolishness can be found in Chaucer's Canterbury Tales (1392). Many writers suggest that the restoration of January 1 as New Year's Day in the 16th century was responsible for the creation of the holiday, but this theory does not explain earlier references.
In 1509, a French poet referred to a poisson d'avril (April fool, literally "April fish"), a possible reference to the holiday. In 1539, Flemish poet Eduard de Dene wrote of a nobleman who sent his servants on foolish errands on the 1st of April. In 1686, John Aubrey referred to the holiday as "Fooles holy day", the first British reference. On 1st April, 1698, several people were tricked into going to the Tower of London to "see the Lions washed". The name "April Fools" echoes that of the Feast of Fools, a Medieval holiday held on the 28th December.
http://en.wikipedia.org/wiki/April_Fools'...
For more information on the Silvereye please visit my journal.
youtube link on Silvereyes
Information on Silvereyes
Panasonic Lumix DMC-FZ35 Southland New Zealand
Featured 3rd April 2011


Featured 4th April 2011



Featured 7th April 2011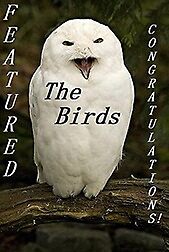 Fools Holy Day! – Happy April Fools Day