Best viewed Large.
The horse's senses are generally superior to those of a human. As prey animals, they must be aware of their surroundings at all times. They have the largest eyes of any land mammal, and are lateral-eyed, meaning that their eyes are positioned on the sides of their heads. This means that horses have a range of vision of more than 350°, with approximately 65° of this being binocular vision and the remaining 285° monocular vision. Horses have excellent day and night vision, but they have two-color, or dichromatic vision; their color vision is somewhat like red-green color blindness in humans, where certain colors, especially red and related colors, appear more green.
Caught this little scene in the eye of Chilo our new neighbor, the sunshine, blue skies, tree line, horse owner, paddock and child's pushchair.
Focal B&W
Panasonic Lumix DMC-FZ35 Rural Southland March 2011
Dedicated to Byron who enjoys eye macros. Thanks Byron for all your support and comments.
Featured March 30th 2011


Featured 11th April 2011

Reflection In A Golden Eye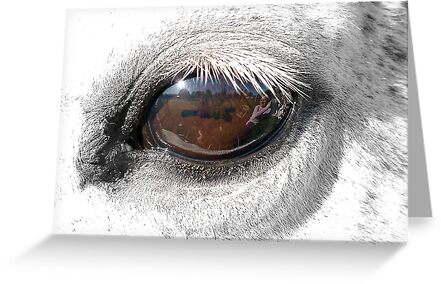 Love Is In The Air!!