The Rainbow Lorikeet with his stunning plumage taken at Maple Glen Gardens where they roam free. Muriel who is nuts about birds, a woman after my own heart puts nuts out for them on the feeder.
The Rainbow Lorikeet is widely distributed along the coastal strip from Cape York south to Victoria and into South Australia. It is often abundant from Sydney northwards, but is becoming rarer south of Sydney. An increasing population around Perth, in Western Australia, is thought to be derived from escaped aviary birds. The prefered habitat is coastal forests as well as urban gardens. Noisy flocks of up to several hundred may congregate in flowering trees to feed and roost, at times in the company of Scaly Breasted Lorikeets. Breeding in the wild is from August to January. It is wonderful to see these beautiful birds wild and free deep in the heart of Southland. Maple Glen Gardens provides an abidance of food for them.
Panasonic Lumix DMC-FZ35 Nov. Jan 2011 Southland NZ
I'm Nuts About Nuts!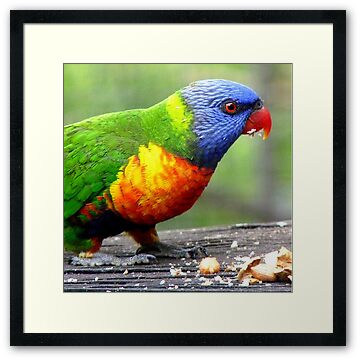 FEATURED: SEPTEMBER 2012: THEME THURSDAY FEATURE FRIDAY