Extraordinary Transformation
Cinderella spent most of her life working, cleaning, washing, eating and sleeping, only to be transformed at the end of the story by her fairy godmother.
Pinocchio began life as a wooden puppet and with the help of some special magic, became a beautiful little boy.
It is worth remembering that transformation does not only happen in children's fairy tales, it happens within you and with the people you know and love.
Our own transformation is sometimes harder to see because it may be the breaking of old habits and the achievement of new personal goals, rather than the appearance of a pumpkin-based coach and four glistening white horse/mice at our front door.
Nature provides us with a free-to-view window into the world of extraordinary transformation every day, if we will take a moment to pause and take a look.
I believe that one of the most stunning examples of transformation is the creation of a Monarch Butterfly. To even attempt to imagine what is actually taking place inside the Chrysalis can cause one's brain to hurt.
Let's stop and look at the facts for a moment:
-A butterfly lays a microscopic egg on the underside of a plant
-The egg hatches into a teeny-tiny caterpillar that would fit onto the head of a pin
-The caterpillar consumes the egg, then the leaf, and grows very rapidly
-It attaches itself to a branch of the plant, morphs into a Chrysalis
-Then it emerges as a stunning, perfectly formed Monarch Butterfly!
How on earth does a caterpillar, turn into a semi-liquid, then re form into a butterfly?
How does it know "which bit goes where?"
This has to be one of the most miraculous examples of transformation on earth!
In order to witness and record this state-of-the-art transformation first hand, we have acquired a Swan Plant (Milkweed), complete with caterpillars, and will be photographing and releasing images onto RedBubble as the action happens.
I hope you enjoy our journey through the life cycle of a Monarch Butterfly.
The Caterpillar has attached itself to the Swan Plant Leaf with a bit of silk and transform into a Chrysalis a few hours later.
Panasonic Lumix DMC-FZ35 Jan. 19th 2011
Instar! – Extraordinary Transformation -Monarch Caterpillar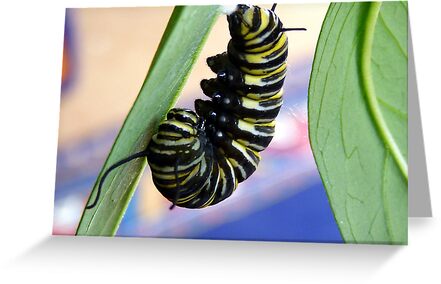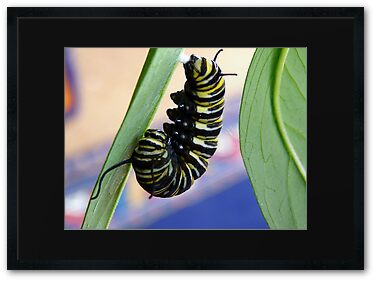 Morphed into a Chrysalis! – Monarch Chrysalis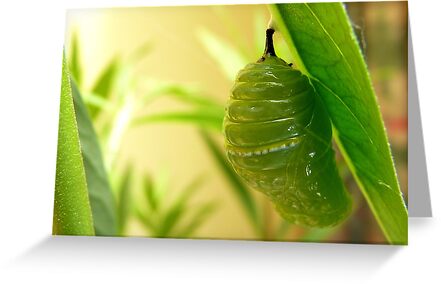 Go For Gold! – Morphed Chrysalis Monarch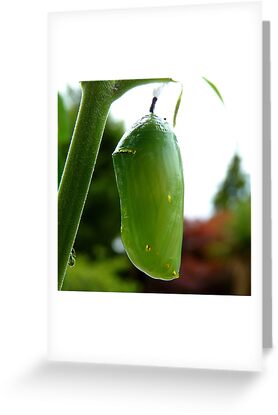 The Dark Crystal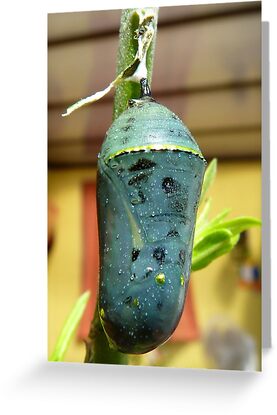 Caterpillar To Wings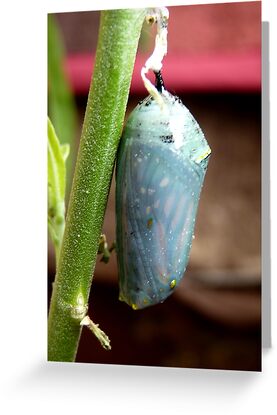 Look At Me Now – Watch Monnarch on