A tradition that has been carried from Gradma, to mother, to daughter and now to granddaughter or great granddaughter. Ham on the bone cured and purchased raw so that one is able to create ones own unique flavor.
When I first arrived in New Zealand and approached the local butcher near Christmas time to order my Gammon I was faced with a blank look. I was asked what a Gammon was. I soon discovered that it is called raw ham on the bone. Christmas without a Gammon is not Christmas to me.
I love preparing my Gammon and begin by finding a good butcher who supplies raw ham on the bone in NZ. It has to be well cured. Placing the huge 9kg leg in a massive pan I begin by slitting the skin into diamond shapes over the top of the leg. Whole cloves are shoved into slits and red wine and coke are poured over the whole leg. I cover the pan with tin foil and bake slowly in the over for many many hours adding more coke and red wine through the process. The wine and coke mingle and the flavor of the cloves seeps through the ham. Once cooked the skin is carefully removed and a glaze for the top is prepared using honey, cinnamon, brown sugar, lemon juice, mixed spice and apricot jam. The gammon is now ready to be decorated with a tin of sliced pineapples and glazed cherries. Once our decoration is secured with tooth picks I brush the glaze over the top and bake on high uncovered till the pineapple turns golden. The juices from the gammon of red wine and coke are removed and mixed with the pineapple juice to make a delicious gravy to go with your roast potatoes and veggies.
For us as a family there is nothing better than a home cooked Ham on the bone.
What is not consumed at Christmas dinner makes wonderful omelette's, pasta dishes, cold meat & salad, sandwiches, or fired with eggs for breakfast. But the best part is to freeze the bone till winter then make ham and pea soup.
Panasonic Lumix DMC-FZ35
Gammon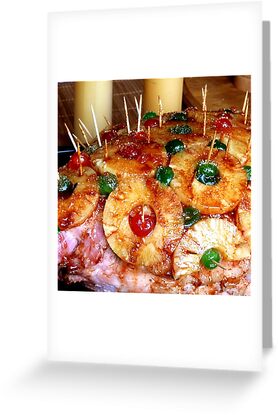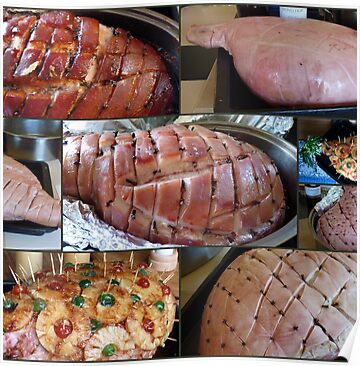 FEATURED: FOOD FOR THOUGHT Oct. 2012