Most of the gulls in this capture gathered at the waters edge are juveniles. I am guessing they are being given swimming lessons, or they have been drawn to the water to quench their thirst on a hot summers day. I noticed there were a number of adults on baby sitting duty. View Larger for full effect of the chicks.
Most gulls, particularly Larus species, are ground nesting carnivores, which will take live food or scavenge opportunistically. Live food often includes crabs and small fish. Gulls have prophylactic unhinging jaws which allow them to consume large prey. Apart from the kittiwakes, gulls are typically coastal or inland species, rarely venturing far out to sea. The large species take up to four years to attain full adult plumage, but two years is typical for small gulls. Large White-Headed Gulls are typically long-lived birds, with a maximum age of 49 years recorded for the Herring Gull. Gulls nest in large, densely packed noisy colonies. They lay two to three speckled eggs in nests composed of vegetation. The young are precocial, being born with dark mottled down, and mobile upon hatching.
Panasonic Lumix DMC-FZ35 Dec 2010 Rural Southland New Zealand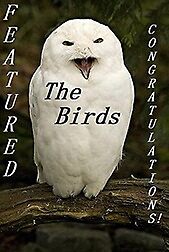 Crowded Pools!