Best viewed Large for full effect.
Vivid streaks of colour in paddocks surrounding rural Tapanui in Southland caught my attention, I had never seen 26ha of tulips blooming all at once. These glorious blooms will soon disappear when the flowers are removed to enhance bulb growth. A former Dutch tulip grower is expected to harvest 9 million tulips this season. Most of the bulbs grown on New Zealand soil will be exported to the Netherlands and America. The bulbs are planted in nets in the ground in leased paddocks, once the bulbs are ready to harvest, the nets are and bulbs are lifted by machine, leaving most of the soil behind.
Rural southland, with an abundance of grazing sheep and cattle pastures, while fields of tulips brighten the lush green countryside with vibrant colours of orange, red and green. It is a spectacular scene with the bright tulip plantations scattered along the country roads. Nature has put on a display that catches your breath as you drive along. After standing on the gate post for a while, I was unable to resist getting close and taking some photographs. I jumped the fence and decided that I would deal with the consequences if I was spotted by the farmer. It was a worth while risk.
Spring blooms New Zealand October 2010.
Panasonic Lumix DMC-FZ35 30th Oct. 2010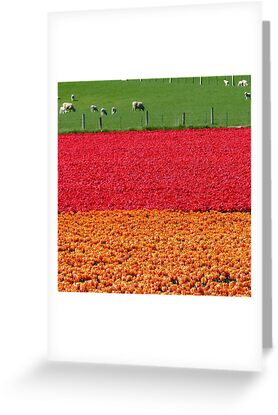 Nature Painted The Field In Colour

"The Serious Photographers at work":http://www.redbubble.com/people/andreael/art/61...