The name Rhododendron comes from the greek words "rodon" which means "rose" and "dendron" which means "tree", hence Rose Tree. Rhododendron flowers are usually produced in trusses. The family Ericacea, into which the genus Rhododendron falls, also includes heathers, mountain laurels, blueberries and cranberries as well as manzanita, trailing arbutus, madrone, huckleberry, kalmiopsis, sourwood, blueberries and a number of other genus. Rhododendrons are referred to as the King of Shrubs since they are regarded by many as the best flowering evergreen plants for the temperate landscape.
Capture taken after a rain shower and, image unaltered. Spring October New Zealand 2010
Glitter Sparkle & Shine Gallery by invitation only.

Panasonic Lumix DMC-FZ35 October 9th 2010
To View Calendar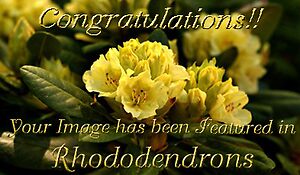 Natures Complex Simplicity