I am an amateur photographer from New Zealand. Birds, Nature, cooking and more recently oil painting and photography are my passions that are self-taught. (Let me not exclude my wonderful husband who inspires my passion for life). Photography: being in the moment, looking at the ordinary and finding the extraordinary in a single shot. We can learn so much from nature and the wild if we just implement it into our lives. Nature puts on a show for us 24/7 whether we are there or not to capture that moment with our camera. I fell in love with our little feathered friends (Birds) when I was a toddler and have always incorporated them into life whether they are wild or tame.
My images do not belong to the public domain for your personal use. All images are copyright © AndreaEL
All rights are reserved. Copying, altering, displaying or redistribution of any of the images on Redbubble or my websites without prior written permission by me the author/artist is strictly prohibited. I am happy to share any of my images for motivational or inspirational purpose or for translations into paintings or drawings as long as you have been granted permission by me the Author/Artist AndreaEL.
I was inspired by Dewitt Jones with photography after watching Extraordinary Visions some of his inspiring comments "Celebrate what is right with the world"," There is more than one right answer"
My youtube channel
Please visit my website .
The people of New Zealand are well known for their "No 8 Wire" mentality (the ability to make something out of nothing). These songs are a result of a persistent desire to create music designed to touch the hearts of families and individuals across all walks of life. Climb aboard this exciting journey and enjoy the magic of Keith and Andrea as they weave their love into these beautiful songs.
Music
I appreciate you taking the time to view my portfolio, thank you for stopping by.
EVERY LITTLE THING YOU DO GROUP


SEASONS CHANGE GROUP


HOME TOWN PHOTOGRAPHY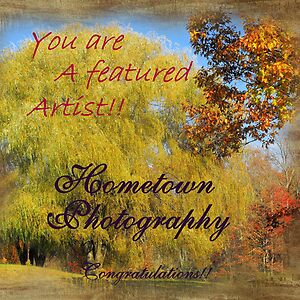 FEATURED ART IN GROUPS


Some Top 10 Challenge Wins