Welcome to Photography by Odille's Red Bubble site. I live in beautiful Tasmania – moving here in 2013 after 10 years on the Tweed coast of northern NSW. So you'll find many images of both areas plus work from my travels in Oz & NZ>
Visit my website and view all my Galleries and Shops direct.
Special edition limited Fine Art Prints are available from the website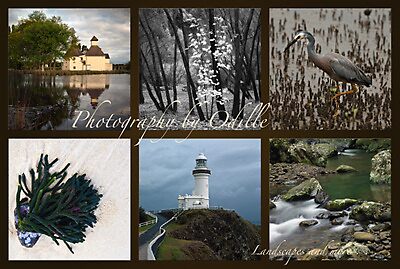 Check out my RB portfolio – now arranged in collections with My Fine Art set (only available direct from me, as it is a limited edition set), featured and challenge placegetting images and my 100+ view set, then my New Zealand images, then the collections in alphabetical order.
My Calendars are here. You can start a calendar at any month you choose! If you would like a calendar made to order, please send me a BubbleMail or email me with the images you'd like.
And I am very pleased to announce I have an image featured in the
A link to my image featured in the Sojie 12 exhibition of fine photographs and their re-interpretation in traditional mediums of oil, acrylic, watercolor, pastel, pencil, and mixed-media (Image is Old Jetty Remains, Kinloch, scroll down to it in the third row of the stunning images)
Join me at the Juried Invitational Exhibition…
To protect our artists right's join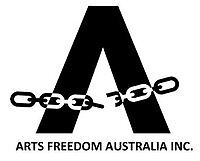 Arts Freedom Australia
and see

Artists Bill of Rights before you enter any competitions that steal your rights to your own image!
And just so you know what I look like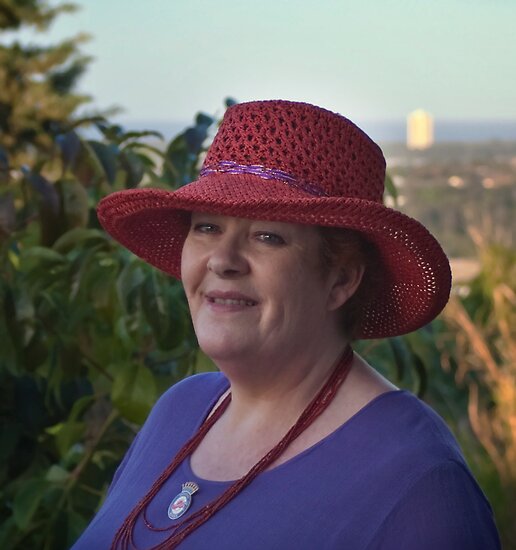 My featured images as at 03 April 2011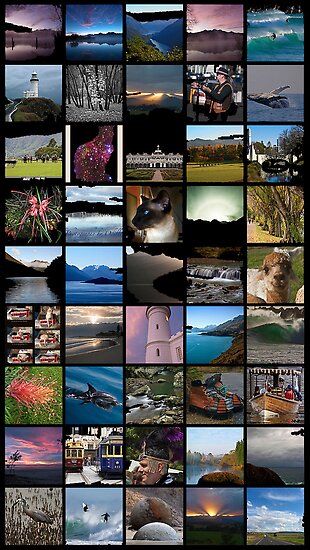 About me
Growing up in a rural environment I have always been intrigued by nature, the landscape and the night sky. I love the colours and contrasts of the natural world and the creatures inhabiting it.
I have travelled around NSW, some of southern Qld and in Tasmania, and have some inspiring images from these spots. I also have a big love of the south island of New Zealand, particularly the south-west corner encompassing Lake Wakatipu and Fiordland, and want to share my images with a wider audience.
Launching a website is the culmination of a long held dream to show my photography to the world and hopefully to give you lasting enjoyment by hanging in the wall of your home.
I hope you enjoy viewing my images as much as I enjoyed capturing them.
Background & Training
I first picked up a camera at about 7, my Mum's old Franca rangefinder, and it ignited a passion that has gutteewd and flared, but never died. My mother, and my grandfather before her, were keen photographers and I still have many little 2×3″ snaps that I enjoy trawling through. After a raft of small instamatic type cameras I purchased my first SLR in my 20s. Film was expensive but I stretched the budget shot roll after roll.
In the late 1970s I completed the first 2 years of a 4 year Professional Photography Certificate at the Canberra Technical and Further Education, but was defeated by the physics of lenses and gave it up to work full time, unfortunately not in photography. But the groundings of the course are still with me in the lessons I learned about the building blocks of a good image.
A long hiatus intervened during which I took photos only sporadically, but my enthusiasm was fully rekindled when, in 2004, I purchased my first digital SLR. While I have a huge respect for photographers continuing to use film, and indeed I still have that capability as the Hasselblad will take a film back, I am currently only shooting digital images.
I now shoot full time with medium format digital (Hasselblad) and Phase One digital back, but many of the images here were shot on my previous kit of professional Canon equipment.
Photography Tours
I hope to be able to conduct photography tours for small groups to Australian and NZ destinations in the not too distant future, I am investigating the licenses and permits necessary.
Watch this space!
I am very very honoured to be a Featured Member in the group "Streams & Stream Crossings" (March 2011). In such a talented group of artists it is truly memorable!
Thanks for visiting
(If you would like more presentation (framing etc) options and you live in North America, I now (from March 2011) also have a gallery at Fine Arts America where there are more choices. However, I have not had a sample of their quality and can vouch for the quality of the RedBubble presentations, they are excellent. If something you would like from here is not on there yet please contact me and I will add it for you.)
I also have a Gallery at Flickr
The images on this site do not belong to The Public Domain.
All images are the copyright of the artist –
© Photography by Odille / Odille Esmonde-Morgan
All Rights Reserved.
Copying, altering, displaying, distributing and/or selling any image without the prior written consent of the artist is strictly prohibited and subject to any and all legal remedies.