Shot on a cloudy day in March 2009, Canon 20D & 19-35 L MkII.
I have been honoured to have this image featured in the Scenery Group on 02 May 2011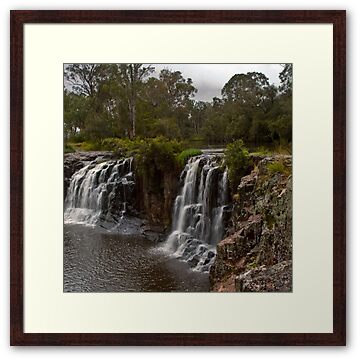 Tooloom Falls are located 6 km south-west of Urbenville, in northern NSW, Australia. The falls are 10 m high and 60 m wide with a good spot for swimming and picnic, barbecue and toilet facilities.
Traditionally the falls marked the boundary between the Gidabal and Wurlabal clans of the Bunjalung Aboriginal people. Also known to the indigenous inhabitants as Dooloomi, it was declared an Aboriginal Place in 1977. 'Dooloom' means lice and the Gidabal told their children not to swim there for fear of lice infestation. This may have been a ploy to keep them away as they also believe it is haunted by many spirits who are a danger to passers-by.
The myth of Dirrangun the witch is also associated with the site. A plaque at the falls expands on some aspects of the site's significance to the indigenous peoples.