PLEASE CLICK Show Full Description FOR ALL MY IMAGES
Visit my website and view all my Galleries and Shops direct; or view at My Fine Art America or Artflakes (European based) shops. Just click the picture links below!
Special edition limited Fine Art Prints are available from the website
---
The remains of the old jetty at Kinloch, on the shores of Lake Wakatipu, provide a nice point of interest for this early morning shot.
This shot was taken during my trip to the south island in May 2010, when I spent 3 full days at Kinloch and enjoyed a wonderful landscape photography workshop with Jackie Ranken and Mike Langford from QCCP.
And it is far and away my most popular shot on RedBubble, with 636 views & 51 favourites as at end November 2011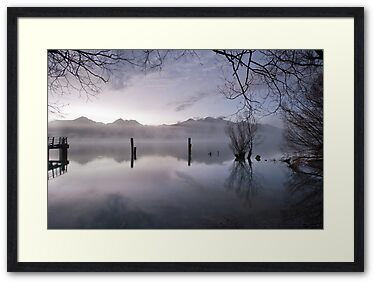 1DsMkII & 16-35 L MkII zoom lens
And I have been honoured to have this work FEATURED by the following group(s):
Wide Angle Photography
All Water in Motion and Reflections in Water
All Countries ~ Wetlands, Ponds, Lakes and Rivers – Dec 2010
Canon DSLR – March 2011
Your Magic Place – March 2011
Artist on Facebook – March 2011
A Love of Canon and Nature and man and Live, Love, Dream on 21 June 2011
Nature's Paintbrush – 22 June 2010*
Top Ten placegetter in the "Treasures along the water scenes… Jetties and Piers… ":http://www.redbubble.com/groups/featured-for-a-... Challenge at Featured for a Challenge Group – August 2011
Rainbow Group on 3 December 2011
The World Around Us 4 December 2011
Zingers 15 Dec 2011
Permanently displayed in Features Forum of Lakes and Inland Waterways 19 Dec 2011
Top Favourites 03 Jan 2012
August 2011 Juried Invitational Exhibition
My image featured in the Sojie 12 exhibition of fine photographs and their re-interpretation in traditional mediums of oil, acrylic, watercolor, pastel, pencil, and mixed-media is Old Jetty Remains, Kinloch, scroll down to it in page 5/third row of the stunning images
This work was accepted in SoJie 12 in June 2011; and featured there on 23 August 2011
This photograph has been translated by the amazing and very talented artist Subhrajit Datta*. He has produced a very beautiful conception from my original image.
Another work from the same morning