Short-eared Owl – Asio flammeus. A bird of open grasslands, the Short-eared Owl is one of the most widely distributed owls in the world. But populations fluctuate greatly along with prey population cycles and of course available open habitat. It is listed as Potential Species of Concern in Montana.
This species hunts day and night; mainly at dawn and dusk in winter. It flies low over open ground, locating prey by ear and kills prey with a bite to the back of the skull; often swallowing prey whole. Nests are a scrape in ground lined with grasses.
Taken in a wetlands management area (protected) of the Mission Valley in western Montana, USA.
Canon EOS 7D, Canon EF500mm f/4L IS USM lens
1/3200s, f/4.0, ISO: 200, 500mm, lens hand held (would have used a tripod but didn't have time to set it up)
Featured June 2012: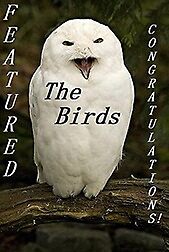 Click here to see another SEO image on my RedBubble


See more photos at Short-eared Owl – Asio flammeus on my SmugMug site
This was my first Short-eared Owl photo op. I was thrilled that it gave me this opportunity.