Bull moose on the middle Bitterroot River in Montana (USA) just before sunrise.
Featured in my 2012 Montana Nature Calendar
I have often thought I should see a moose at my friend John's river bank because there is a marsh near by. September 26, I was walking south on the bank taking photos when a kingfisher (bird) called from behind me. I love kingfishers so I turned around to try to get a photo. I was surprised to see this reasonably sized bull moose wading across the river on John's property! I was afraid to get any closer so this photo isn't bad considering the distance and low light. In full size, his eye is very visible. There is a little bit of a mist coming off the water and around his legs. Some might not think a moose is beautiful, but I do.
He grunted all the way across the river and off into the brush on the other side. I could hear him grunting with every step even when I couldn't see him. I laughed quietly. It didn't seem like he even knew I was there. After the fact, I wish I would have tried to get closer – probably a good decision that I didn't. I don't run very fast any more.
Featured July 2012:


Featured Nov 2010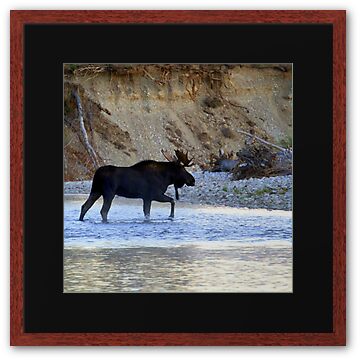 Canon EOS D7, 1/100s, f/5.6, ISO: 200, focal length 300 mm
Cannon EF 70-300mm f/4.5-5.6 DO IS USM lens