Follow Merle on Facebook, Twitter, Tumblr, LinkedIn, StumbleUpon, Pinterest and Digg
Merle Loman is an outdoor enthusiast living in the Bitterroot Valley located south of Missoula in western Montana. Her adventures start there but will also travel the world. She hikes, bikes, fishes, hunts, skis and always take photos. As much time as she spends outdoors, one needs to eat. You will see entries about foods that travel well, making it much more fun to spend long periods of time exploring the flora and fauna. Merle authors outdoor adventure articles at Outdoor Recreation Examiner – articles and photos.
See more of Merle's photos in her online album at A Montana View photo gallery at SmugMug
I use a Canon 7D (with a few lenses) and shoot in RAW. I process my photos into JPG with Adobe Lightroom with as few adjustments as possible.
---
Northern Flicker – MY TOP FEATURED PHOTO – was featured in Montana Group, Art and Collectables, Woodpeckers from Around the World, Closeups in Nature and was in the top ten challenge winner group for Woodpeckers Around the World***

"Featured in Pacific Northwest group"
Twin White-tailed fawns, Nov 2010

Featured in the Birds
Young ruffed grouse, featured in the Birds, Nov 2010


Merriam's turkeys


Bald Eagle near Sweathouse Creek – also featured in JPEG Cast-Offs


A pair of young ruffed grouse


Young ruffed grouse


A pair of bald eagles

Featured in Woodpeckers From Around the World
Red-naped sapsucker


Northern Flicker finding a winter snack – featured Nov 2010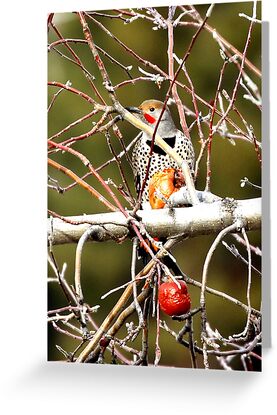 Featured in For the Love of Dogs
Too much fun in the snow

Featured in Doggie and Kittie Paradise
Timmy Tiger

Freda hunting for Bass was featured in Cats and Dogs and Montana Group

Featured in Montana Group
Young Bull Moose

Featured in Pets Need a Hug and Safe Haven group
Montana Mustang

Featured in Wildflowers of North America
Bitterroot flower


Pasqueflower